Toronto Residential, Condo and Townhouse Boiler Upgrade.
You may have a condo or home in the Greater Toronto Area with an aged boiler system. These units may be significant in size and have a severe risk of leaking. We will help you find the perfect upgrade for your situation.
The Solution is the Rinnai i-Series Combi Boiler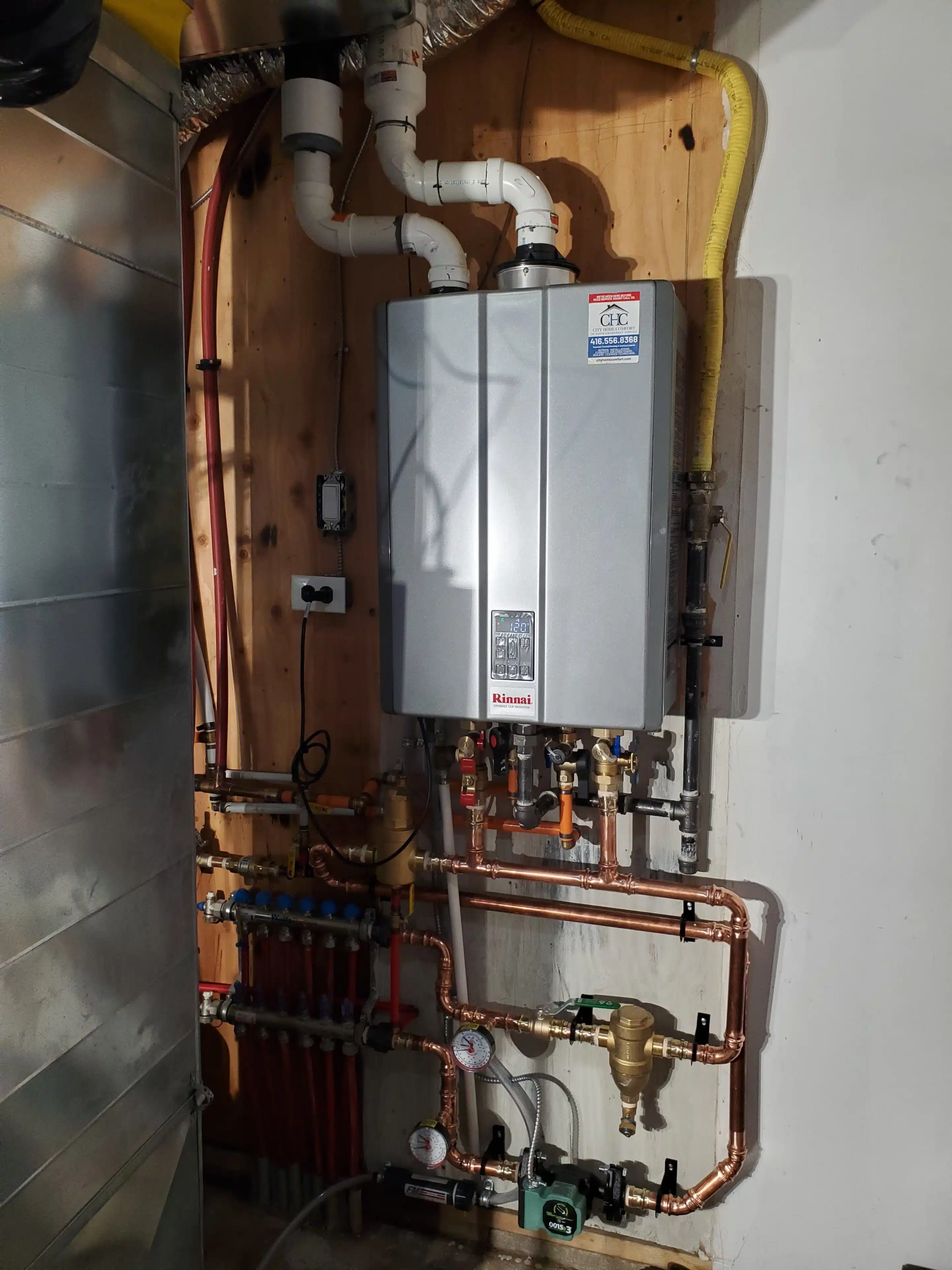 We recommend the most effective upgrade for this layout: the low-maintenance, Rinnai i-Series Energy Star rated and compact, tankless combination boiler.
The most common size and universal model is the Rinnai i060CN, with an input rating of 60K BTU, natural gas-fueled, and the highest energy efficiency rating of 95.9%.
The power of the instant hot water produced is enough to run nearly three showers simultaneously, allowing you to have consistent water temperatures.
If your home has three or more showers, we recommend the Rinnai i120CN higher capacity combi boiler with a very high Domestic Hot Water (DHW) flow rate of 199,000 BTU.
Low maintenance means more value.
A big part of our company is wanting to help you get the most life you can out of your heater without paying service fees for someone to have to do the cleaning. We can help walk you though the simple annual service you can easily do yourself. However, we would be more than happy to come out and provide these services to you anytime.
The i-Series Rinnai combi boilers also have a newly designed self-cleaning stainless steel heat exchanger that does not require annual vinegar flushes. This new innovation is only available on Rinnai i-Series brand models , as most other tankless brand models recommend vinegar flushes annually.
ONLINE BOOKING
Use our online system to book an emergency service. Or to get a quote, just click the button.
When should I repalce my combi boiler tank?
If your boiler water tank is over ten years old, you need to consider this upgrade to high efficiency. We have many cases of flooded homes that have caused havoc inside buildings and destruction to neighbouring units.
The tank boilers can be at risk of leaking after ten years of use. An urgency to replace the old equipment stems from home insurance policies, which in most cases, do not cover water damage from tanks over ten years old.
Get a no hassle guarantee when you use our expert installation services.
Our expert installation of the Rinnai i-Series combi boiler includes 5 years of complete parts and a 5-years labour warranty.
These models come with a 12-year heat exchanger warranty. City Home Comfort installation services have decades of experience in boiler services and have field-tested this model to confirm it lasts.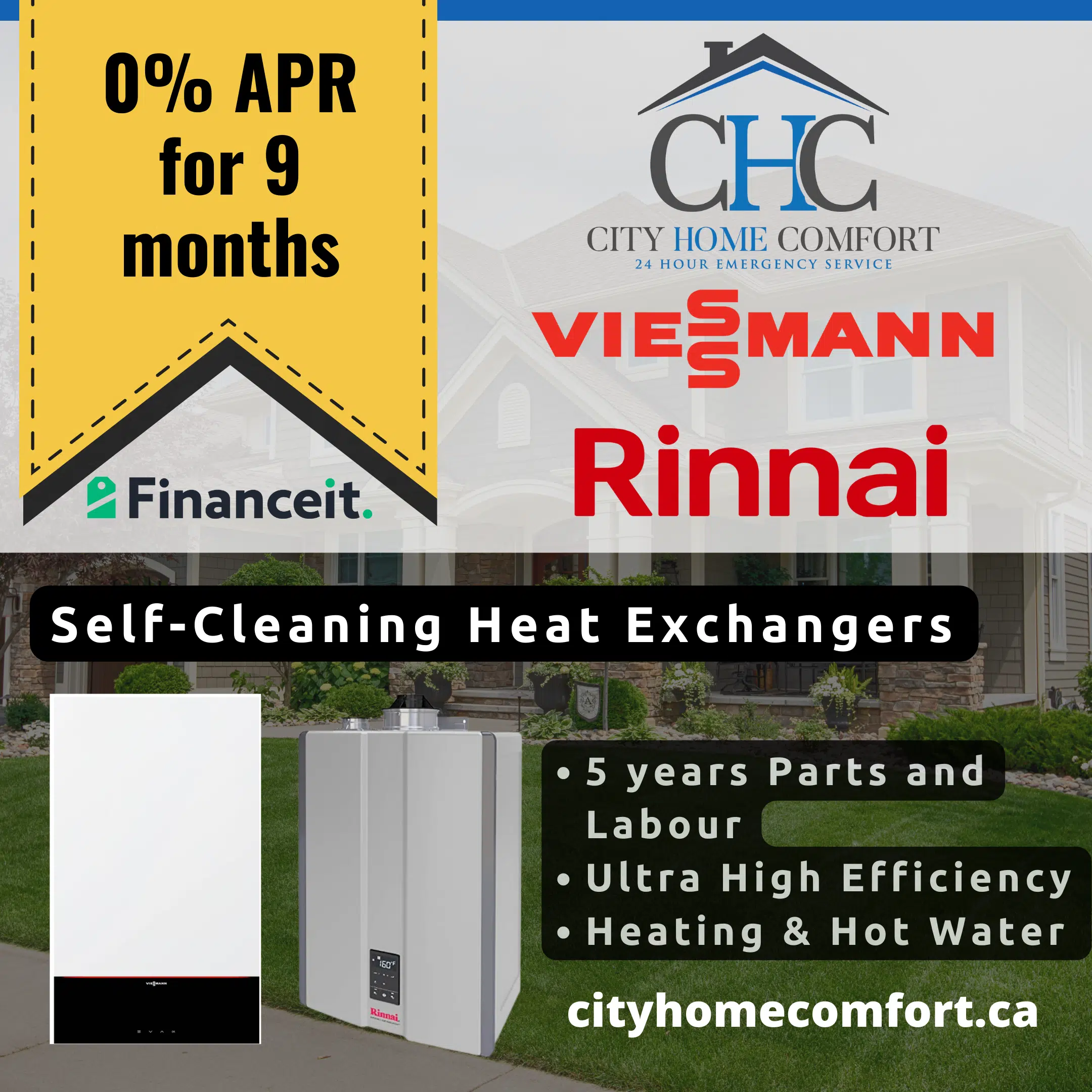 The Rinnai i-Series, with its compact wall-mounted design, saves space over traditional boilers. 
The upgrade to high efficiency will also increase the property value of your home.  We are here to guide you through this process and can help you navigate through all the details.
Your Condominium or townhouse with a  boiler has equipment that uses a fan coil to blow air through a radiator for their heating system. That radiator is connected to a combination boiler which is also used to heat the home, and supply domestic hot water.
To get a free no-obligation price, contact us and one of our knowledgeable advisors will answer all of your questions.
Renting a new boiler is very expensive! 
Read the terms before signing any equipment rental/lease agreements, as these contracts tend to cost much more in the long run.

City Home Comfort will never recommend a rental contract to our customers.
It is common for homeowners to enter into a rental boiler contract. So, it has become a routine procedure in Ontario to rent this equipment and pay thousands of dollars more than the actual retail value. Most homeowners are shocked to find out the exact terms of these agreements.
If you have already signed a rental/lease agreement, your rights allow you to cancel within ten days.
You do not have to provide a reason for cancelling.
Do not sign until you have read and understood the terms of the agreement or consulted with legal counsel.
Consumer Protection Ontario has forced companies to present more transparent terms to homeowners. You may contact the Ministry of Government and Consumer Services for more information.
Consumer Protection Page of Rental/Lease Agreement Below.