Rheem R96V Prestige Series Gas Furnace
They've Thought of Everything
Industry-first patented features and 360°+1 engineering make the Rheem R96V Prestige Series Gas Furnace a smart option. From top to bottom, inside and out, and every angle in between, we've thought of everything to bring you efficient and reliable indoor comfort.
This same model is also known and rebranded as "SmartAir™" by some other companies.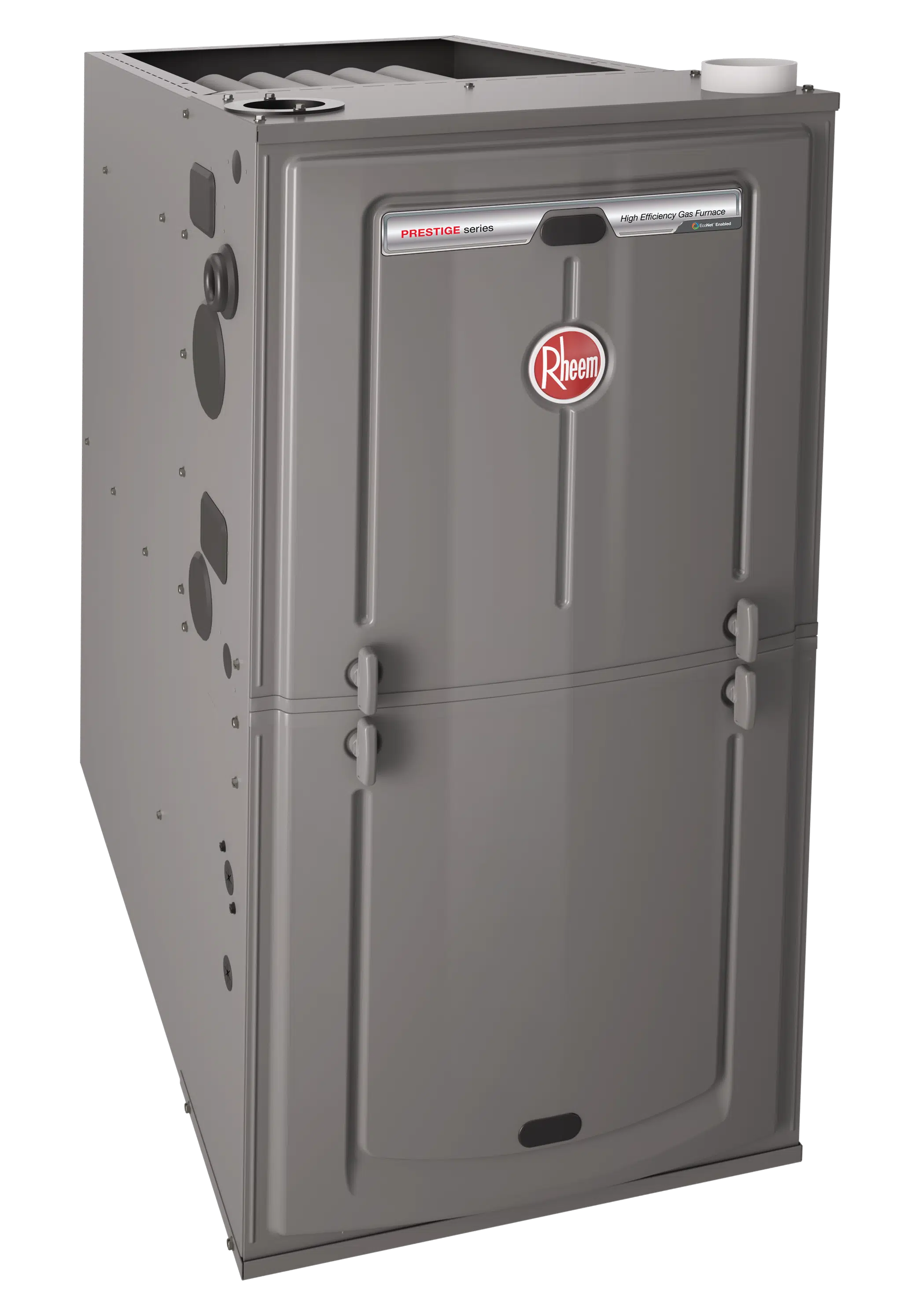 Prestige Model Features:
■ Up to 96% gas furnace CSA certified
■ 4-way multi-poise design
■ Two stages of operation to save energy and maintain the optimal comfort level
■ Variable speed blower motor technology provides ultimate humidity control, quieter sound levels, and year-round energy savings.
■ The Prestige® Series R96V is part of a new line of Rheem innovative heating, cooling and water heating products.
Using the latest sensor technology and a powerful EcoNet® monitoring system, Rheem provides homeowners with a new level of protection, control and energy savings.
Rheem innovative heating, cooling and water heating products will alert the homeowner if there is an issue via the EcoNet Smart Thermostat and the EcoNet Mobile app.
The EcoNet Mobile App makes it easy for homeowners to manage their comfort environment at home or on-the-go while enjoying the convenience and savings benefits of a highly efficient system.
■ PlusOne™ Diagnostics 7-Segment LED all units
■ PlusOne™ Ignition System – DSI for reliability and longevity
■ PlusOne™ Water Management System with patented Blocked Drain Sensor
■ Heat exchanger is removable for improved serviceability. Primary is constructed
of aluminized steel, secondary is constructed of stainless steel for maximum
corrosion resistance and thermal fatigue reliability.
■ Low profile "34-inch" cabinet ideal for space-constrained installations.
■ Blower Shelf design – serviceable in all furnace orientations
■ Pre-marked hoses – ensures proper system drainage
■ Vent with 2″ or 3″ PVC
■ Replaceable Collector box
■ Hemmed edges on cabinet and doors
■ Quarter turn fasteners for toolless access
■ Integrated control boards feature dip switches for easy system setup
■ Self-priming condensate trap
■ Solid bottom included
■ Compatible with single or two-stage therm
Let our team help you get a New Rheem High Efficiency Furnace.
We offer industry-leading warranty and installation services beyond trade standards.
Enjoy greater comfort and performance thanks to a two-stage operation that offers a more consistent indoor environment — keeping cold spots to a minimum. The two-stage heating design primarily operates on low-speed, only temporarily switching to high during peak
cold-weather conditions.
Quiet and efficient comfort is what you get with a Rheem Prestige Series Gas Furnace. The new patented heat exchanger design provides improved airflow, which reduces operating sound by 20%. The variable-speed ECM motor also contributes to a quiet, more efficient operation. It's engineered to provide better humidity control while using less power. Overall, this is one of the quietest furnaces on the market. And because it's high-efficiency, your monthly energy bill will benefit, too.
Let our team help you get a New Rheem R96V Furnace
We offer industry-leading warranty and installation services beyond trade standards.
Rheem R96V Furnace
Protect your home with our PlusOne Water Management System. The industry's first blocked drain sensor will shut off your furnace when a drain is blocked, preventing water spillage and potential water damage to your home. All this and one of the best warranties in the industry translate to fewer repair bills and more cozy nights at home.
Easy installation and maintenance features benefit consumers, too. This means savings on installation costs and maintenance. The Rheem Prestige Series Gas Furnace is designed with PlusOne Diagnostics — our industry-first, 7-segment LED display that makes service calls quick and easy.

Reap Savings Through Maximum Efficiency
The R96V Rheem Prestige Series Gas Furnace is not only high-performing, it also saves you energy and money. A 96% AFUE rating may qualify you for local and/or utility rebates. It's everything you need in a gas furnace — and more.

Energy Savings are a welcome bonus to any heating system. Maximum airflow and a patented heat exchange design mean the Rheem Prestige Series Gas Furnace uses fuel efficiently and economically. It gets an ENERGY STAR® rating for maintaining comfortable temperatures while reducing energy consumption and lowering utility bills.

Utility Rebates are now widely offered as incentives to reduce energy consumption and make responsible use of resources. With a 96% AFUE rating, you may be eligible for a rebate. Visit Rheem.com/rebate to check your state's policy on local utility and municipality rebates,
and get ready to reap the rewards of choosing the best for your home.
How to know if your furnace needs replacement:
If you notice any of these issues or your furnace is more than ten years old, it's probably time to get a new furnace. The experts at City Home Comfort can help you find the best furnace for your home.
We're fast, reliable, and have experience in diagnosing, repairing, and installing furnaces throughout the Toronto area. When you buy a new Trane furnace from us, we'll include a free media filter that will keep the air in your home clean and improve your furnace's efficiency!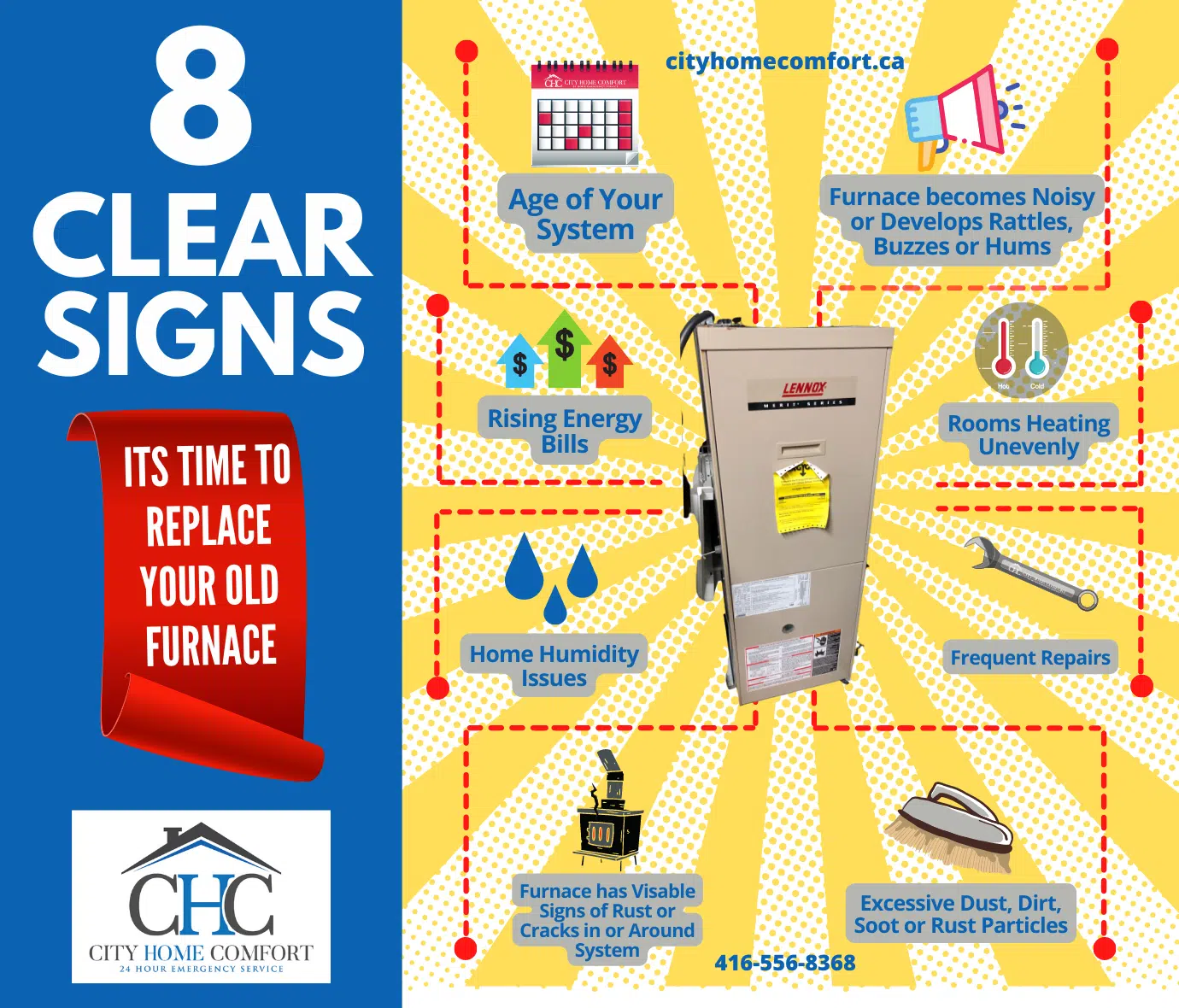 Dust Everywhere – A properly working furnace will filter out air particulates. If you notice that your home has more dust than usual, it might be time for a new furnace.
Frequent repairs – Once your furnace starts needing frequent repairs, it's cheaper to buy a new one than repair the one you have multiple times.
Inconsistent or no hot air – A properly working furnace should provide you with hot air that's consistent from room to room in your home.
Use your eyes, ears, and nose – When you first turn on your furnace, it will create a musty smell, but if that smell lingers, you might need a new furnace. You also shouldn't see any cracks or corrosion on your furnace or hear any grinding or banging sounds.