High Efficeincy Gas Furnaces
Specialists in repair, replacements, and preventative maintenance of furnaces. Serving the Greater Toronto Area for over 40 years.
Providing the best brands that incorporate fully stainless steel warranties. Which are built to last the longest and safest for your home and family.
We can provide a heating system replacement usually the next day. So, whether you want a Trane, Amana, or Rheem we will be ready to provide a detailed price anytime. These brands incorporate; fully stainless steel heat exchangers, ECM DC blower motors, energy star ratings, compatible with all air conditioners, and have up to 98% annual fuel utilization efficiency. We will always provide a free in home or virtual price quotation. Also, If you simply need emergency furnace repair click here.
A home wont last long during a Canadian winter without a reliable furnace to keep the home warm and the family comfortable. That's why it's important to have a trusted heating specialist with reliable service 24/7.
City Home Comfort provides quality well beyond trade standards. The most reliable are available natural gas furnaces, because we have years of experience in virtually every brand. Our pros can answer all your questions and provide quick prices that come with industry leading installation. Our top level technicians can diagnose problems, perform repairs, and install new equipment with precision.
➤ CHECK OUT OUR LATEST FURNACE DEALS & PROMOS!
Getting the Best Brands at Fair Prices
At City Home Comfort, you can get a great deal with the top tier forced-air furnaces in the industry, including Trane, Amana, and Runtrue by Trane.
This selection of brands has came from a number of factors. We have provided great brands like Lennox, Carrier, and Napoleon as well. However, the lack of dealer support and access to replacement parts was poor. Therefore, with the industry leading warranties we have selected Trane and Amana as our preferred brands of choice.
Click here to learn more about Amana furnaces we offer.
Amana
Amana has proudly been providing North Americans with premium, long-lasting products since 1934. Because Amana, Iowa, resident George Foerstner built a dependable beverage cooler. Two years later, the company introduced yet another innovative product: the walk-in beverage cooler, also known as a cold storage locker.
This same spirit of pioneering and craftsmanship has stuck with the Amana brand for over 80 years. Their products recognized as some of the most energy-efficient on the market.
Eager to learn more about Amana's high-efficiency natural gas furnaces? Fill out an online quote request, and one of our representatives will be happy to provide you with a free, no obligation estimate.
Our Most Popular Amana Models: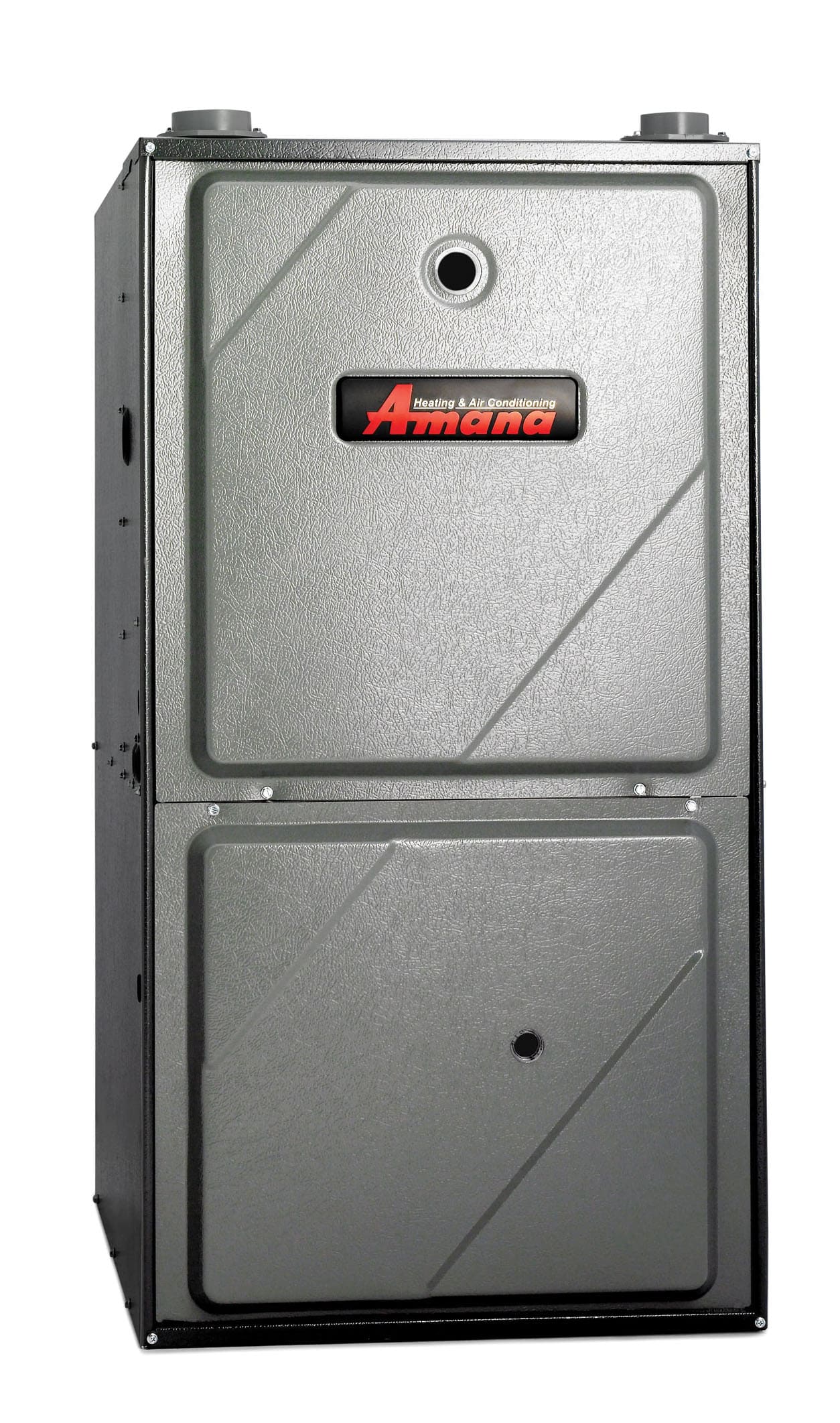 Click here to learn about some of the Trane Furnaces we offer.
Trane
Trane has been a household name in the heating and cooling business for over 120 years, and they have built a reputation as a reliable manufacturer of quality furnaces. They are always innovating and testing new technologies to optimize performance and ensure maximum comfort. Their line includes high-efficiency furnaces with AFUE ratings as high as 97.3 percent, which will translate to great energy and cost savings. They also have affordable and quiet furnaces in single-stage, two-stage, and modulating designs.
Our Most Popular Models: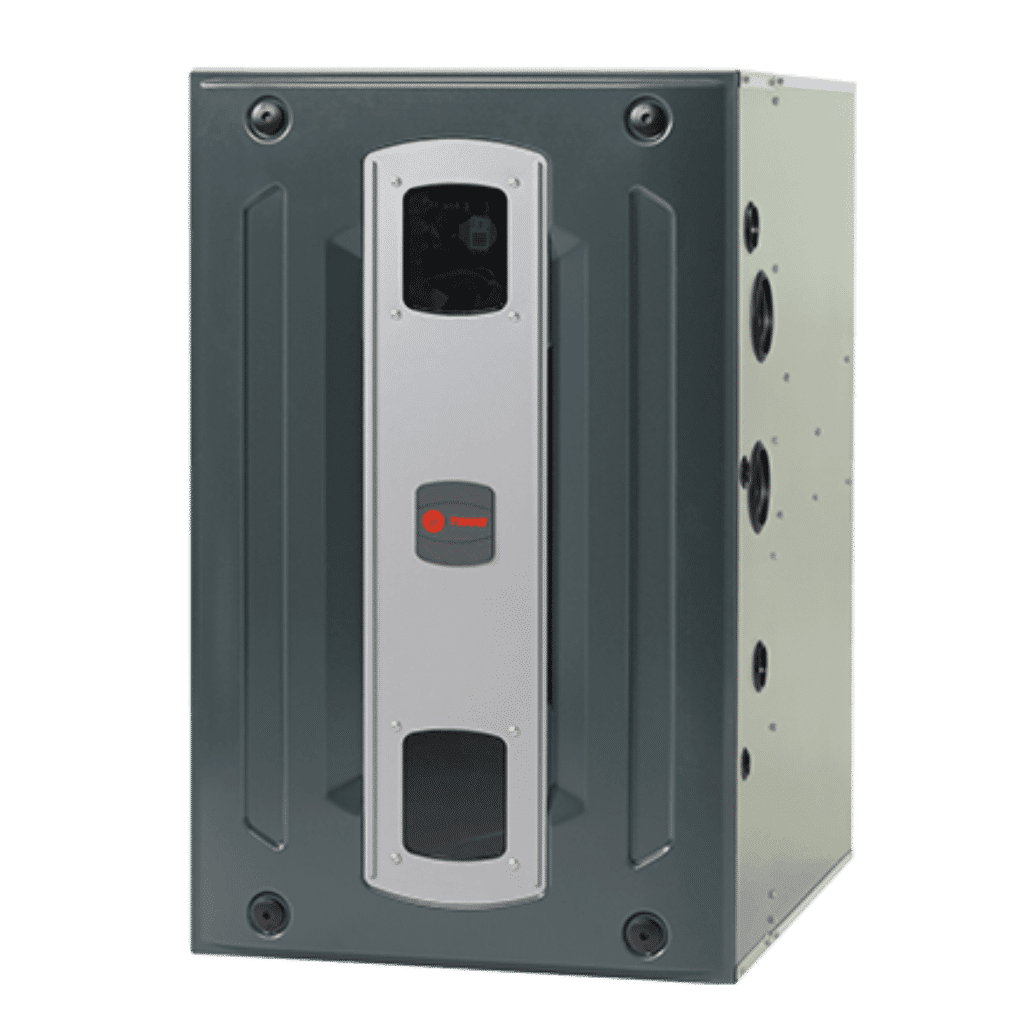 Buying a Furnace : Single-Stage, Two-Stage, or Modulating?
One of the decisions you'll have to make when looking for a heating system replacement is between single-stage, two-stage, and modulating models. We can help you choose which is best for your family and budget, but here's some information to get you started:
Single-stage furnaces have just two settings: On and Off. These furnaces tend to be more basic, less efficient, and aren't as quiet as the more sophisticated two-stage and modulating types.
Two-stage furnaces include a High and Low setting in the On position. Meaning, they can run at a lower level most of the time to maintain your home's temperature better. It also means operation is quieter and more efficient, so you'll save money on energy bills.
Modulating furnaces are the most advanced ones available. So, they have multiple settings when running and can make incremental adjustments to the heating output to maximize fuel efficiency, quiet operation, and temperature consistency.
Who to Call When You Need a Furnace Replacement
City Home Comfort has been the go-to Toronto heating system contractor for thousands of homeowners annually. We're proud to have served the community for 40 years.
When you're looking for the best quality with fast and reliable furnace installations, you can count on us to get the job done right.
Our services include:
Installation
Maintenance and repairs
Emergency service
Free estimates
So when you contact us, we'll send out one of our trained and experienced technicians. They will assess your home, your needs, help you choose the right make, model, and give you a free estimate for what the project might cost.
After your furnace is installed, you can rely on us for quick and dependable service for all your furnace maintenance and repairs.
Gas Furnace Warranty Coverage
Furnace warranties are better than ever, and this means your investment will be protected for longer. So, if something goes wrong or a major component fails we will be there to repair or replace it.
We always recommend furnaces that include comprehensive full coverage. Nearly every brand and model furnace we have includes 10 years parts and 10 years labour warranty. We also register your new furnace with the manufacturer, so you don't have to.
When to upgrade your furnace
Know when to call in for a repair and when to throw in the towel for your old heating system? Repairing your furnace might sound like a more affordable solution now, but it may not be the best choice in the long run. Here are a few signs that it might be time to replace your furnace.
Your furnace is more than 15 years old. The average lifespan of a furnace is 15-20 years. The older they get, the more problems and potentially pricey repairs will arise, especially if they haven't been getting annual maintenance.
Your heating bill has increased. If your home heating bill keeps growing year after year, it could be a sign your furnace is running less efficiently.
Uneven temperatures. Your furnace runs to keep the temperature of your entire home comfortable. Suppose you notice differences in temperature between different rooms. In that case, you may need to call a professional duct cleaning company to suck up all the dust and particles stuck inside the vents of your heating system.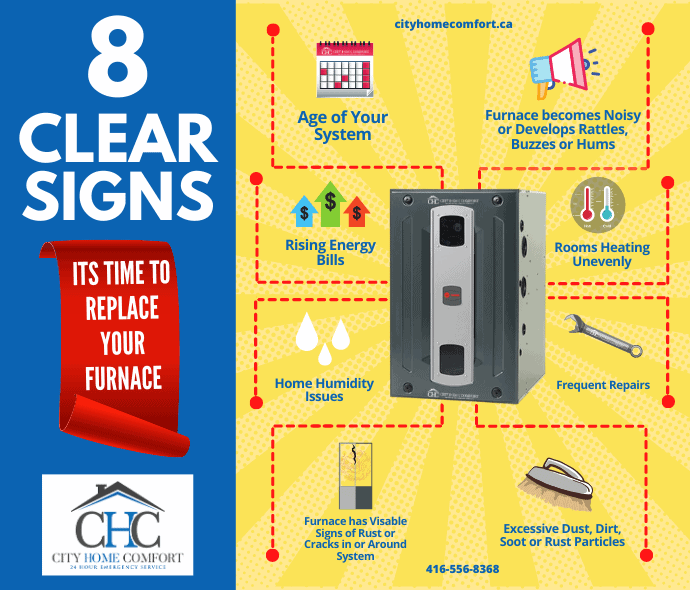 Understand that rooms with direct runs from the furnace, or rooms closer to the furnace will have more heat. Also, rooms with windows and doors will have a harder time holding heat. Balancing an HVAC system is a difficult thing, but there are some smart home devices that can help you such as the Flair smart vent.
Your furnace is making strange noises. Have you heard any banging, popping, rattling, or squealing noises coming from your furnace? Old furnaces often start to make some strange noises as they get toward the end of their life.
Can I buy furnace insurance?
What you're talking about is a warranty. There is no such thing as a proper insurance plan for your heating system.
Some companies offer "heating protection plans," which seem nice. However, after reading the fine print, these plans don't cover the expensive parts.
The plans that tell you otherwise are mini maintenance contracts, typically from companies that rent you furnaces.
Should I rent a furnace?
The company will charge a monthly fee to rent a furnace to you for $50-$100 a month.
Let's do the math on a rental.

Click here to learn more about the truth about HVAC rental/lease contracts.
Includes full coverage as long as you're paying monthly payments.
Furnace rental cost is $70 per month.
The life expectancy of your equipment is 15 – 20 years.
At 10 yerars, you're paying $8,400
At 15 years, you're paying $12,600.
Now let's compare that to a purchase.
A new furnace includes 10 years of complete coverage warranty with parts and labour.
So, if you buy a new furnace installed, you might pay an average of $4,600.
You can have it regularly serviced for, on average, about $100 every year.
At 15 years, you're paying $5,600.
At 20 years, you're paying $6,100.
 To sum it up, you pay at least twice the price if you rent.
While a furnace rental is a low upfront price, it ends up costing you much more in the long run.  City Home Comfort has 0% financing offers to be very consumer-friendly and as fair as possible.