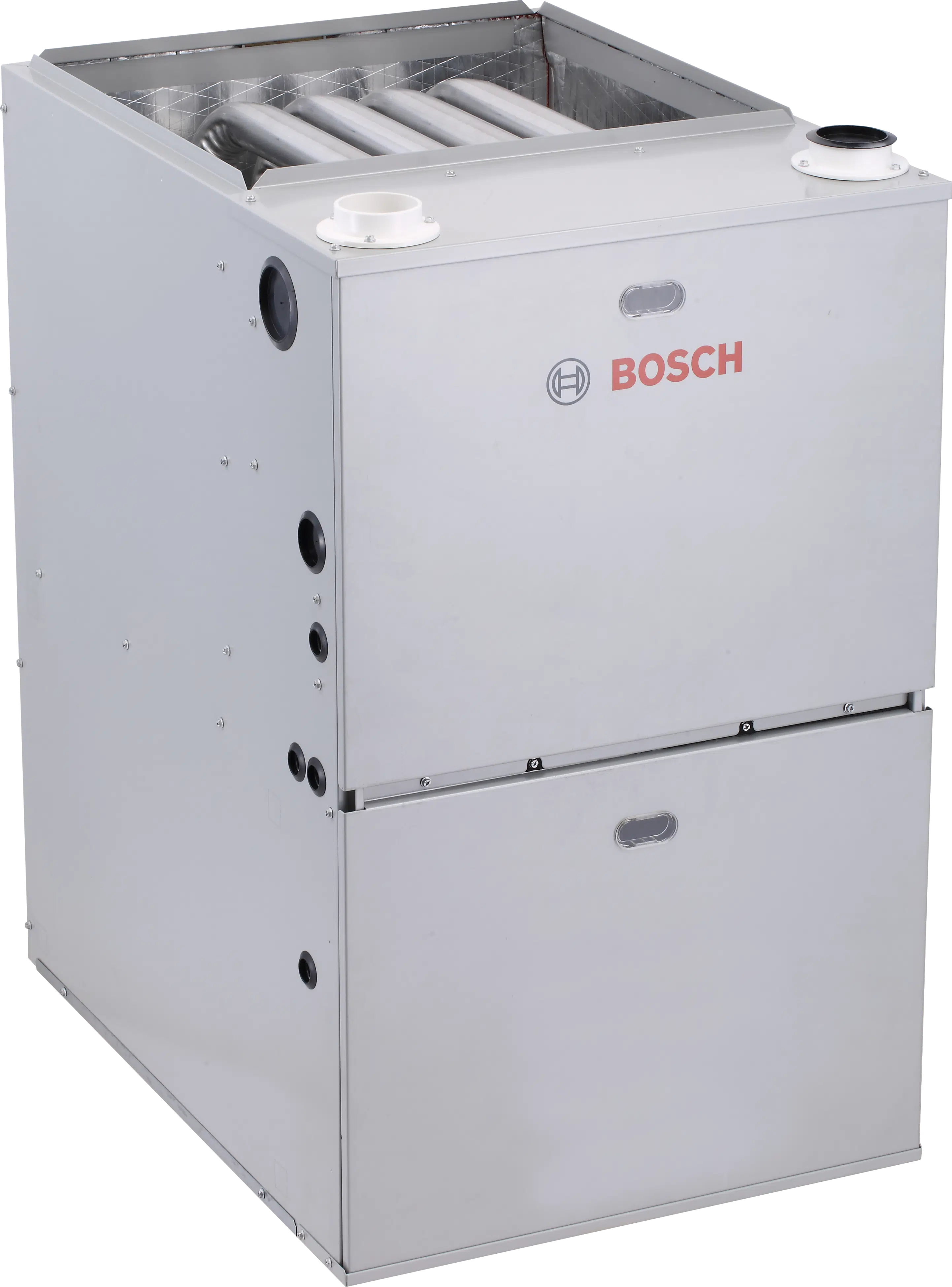 Bosch Gas Furnaces
BGH96 Series
BGH96 Series condensing gas furnace from Bosch.
The BGH96 qualifies for a $6500 HVAC Rebate when paired with the Bosch IDS Premium Heat Pump. The ultimate hybrid fuel heat pump and furnace system.
Get a no obligation quote on a New Bosch BGH96 Furnace
We offer industry-leading warranty and installation services beyond trade standards. 
✓ Up to 96% AFUE heating efficiency
✓ Easily integrate with Bosch IDS Heat Pump units for high efficiency heating and cooling
✓ Multipoise design allows for easy replacement of existing equipment or new installs
✓ 10-year Residential Limited Warranty
Say "Hello" to Savings




The BGH96 Furnace's two-stage gas valve switches between high and low fire settings to meet load demands, allowing for more efficient operation than single-stage technology. This means enhanced comfort and energy savings for homeowners by converting up to 96% of the fuel purchased for heating.
Complete Heating & Cooling System

Complete your home HVAC system by integrating the Bosch BGH96 Furnace with Bosch's IDS Outdoor Unit (BOVA) and Cased Coil (BMAC). Pairing with the Bosch IDS Heat Pump allows for heat pump system operation of up to 18 SEER. Installing a Bosch matched dual fuel system is the best choice to optimize savings, comfort, and efficiency.
Peace of Mind Comfort

Installing a Bosch matched dual fuel system is the best choice to optimize both savings and comfort. Bosch offers a complete dual fuel system with the Bosch Inverter Ducted Split (IDS) heat pump, Bosch BMAC Cased Coil, Bosch 96% Gas Furnace, and the Bosch Connected Control Thermostat.
This combination qualifies for a $5000 Canada Greener Homes Grant.
Consume Only the Energy You Need

Modulating inverter systems deliver only the amount of hot or cool air needed to achieve the desired temperature – no more, no less. Bosch's Inverter Ducted Split system can provide you with maximum comfort levels at a minimum cost.
Residential Limited Warranty

With the residential limited warranty, you receive peace-of-mind knowing you will receive replacement parts protection for up to 10 years. This standard offering covers all components incorporated into the heat pump system at the time of manufacture. All other components or parts that are purchased from Bosch and installed in the field have a 1-year parts warranty.
Virtual or in-person Estimate
To get a quote, click the button.