What is a heat pump?
A ducted split heat pump is an inverter that can provide heating and cooling. This system replaces existing air conditioner condensers and evaporator coils. Paired with a gas furnace, this system will turn your home into a hybrid energy-efficient heating and cooling system.
5 reasons you should replace your AC with a new Heat Pump.
Air conditioning systems are a common feature in many homes in Canada, providing relief from the scorching heat of the summer months.
However, traditional air conditioning systems have some drawbacks, including high energy consumption and limited functionality. If you're looking for an alternative that can help you save money on energy bills while providing year-round comfort, you should consider replacing your air conditioner with a heat pump.
Here are some reasons why you should consider replacing your air conditioner with a heat pump:
1. Heat pumps are more energy-efficient than air conditioners
Heat pumps are a more energy-efficient option for heating and cooling your home. Unlike air conditioners that rely on electricity to cool the air, heat pumps use refrigerant to absorb and transfer heat from one place to another.
In the winter, the heat pump extracts heat from the outdoor air and transfers it inside to heat your home. In the summer, the process is reversed, and the heat pump extracts heat from inside your home and transfers it outside, effectively cooling your home. This means you can save on your energy bills as heat pumps require less electricity.
2. Heat pumps can provide both heating and cooling
One of the most significant benefits of heat pumps is their ability to provide heating and cooling. While air conditioners only provide cooling, heat pumps can reverse the process to provide heating.
3. Heat pumps are environmentally friendly.
Heat pumps are an environmentally friendly option as they use less electricity than traditional air conditioning systems. This means that they produce fewer greenhouse gas emissions, making them a more sustainable choice. In addition, many heat pumps use more eco-friendly refrigerants than those used in traditional air conditioning systems.
4. Heat pumps are more comfortable.
Heat pumps provide a more comfortable indoor environment than traditional air conditioning systems. Unlike air conditioners that can create hot and cold spots, heat pumps provide consistent and even heating and cooling throughout your home. The main reason for this is variable inverter drives that can cool in many stages.
They also remove humidity from the air, making your home feel cooler in the summer and warmer in the winter.
5. Heat pumps are quieter.
Heat pumps are quieter than traditional air conditioning systems, making them a great choice for people who prefer a peaceful indoor environment. They operate at a lower decibel level, which means you won't be disturbed by the noise of your HVAC system.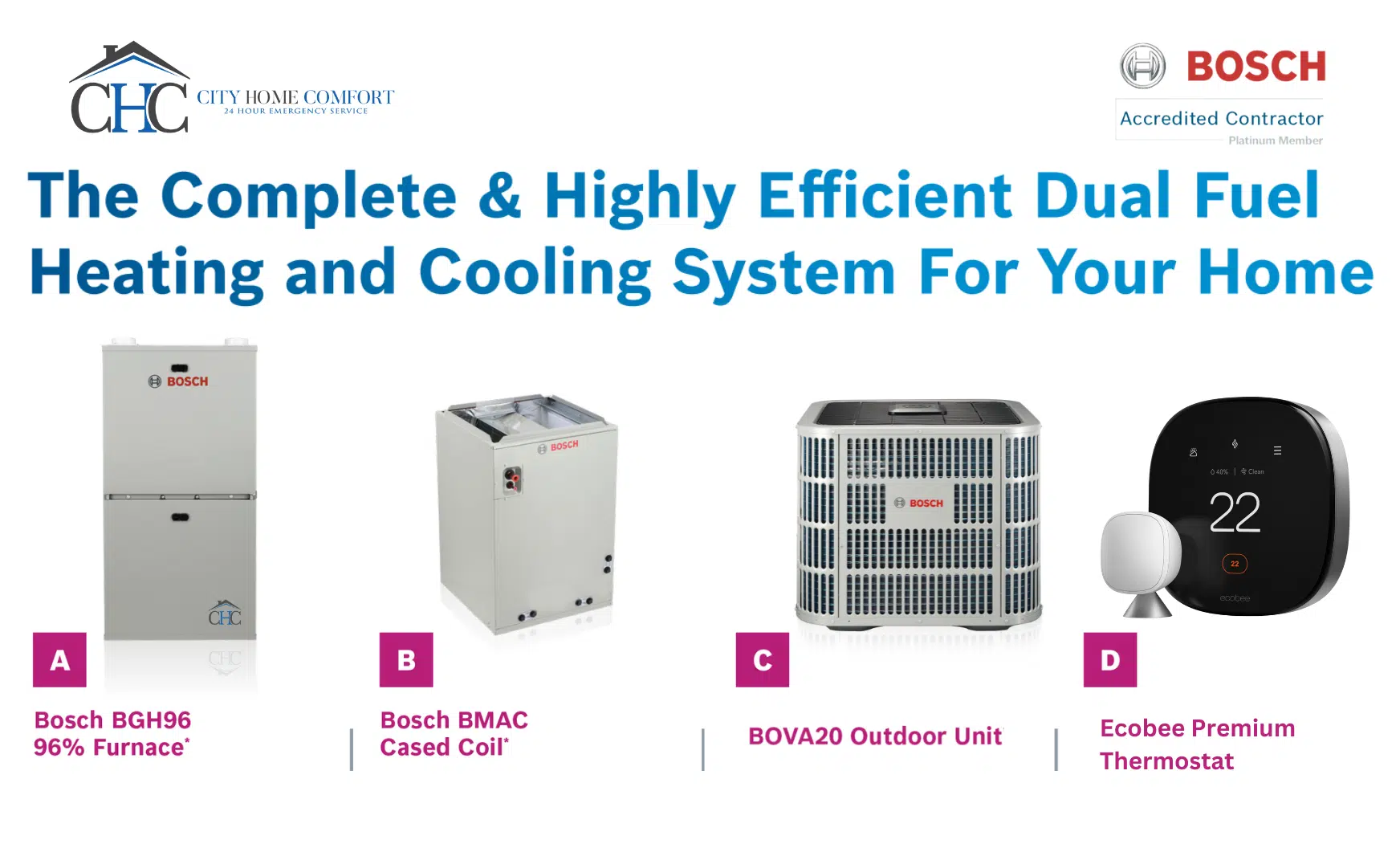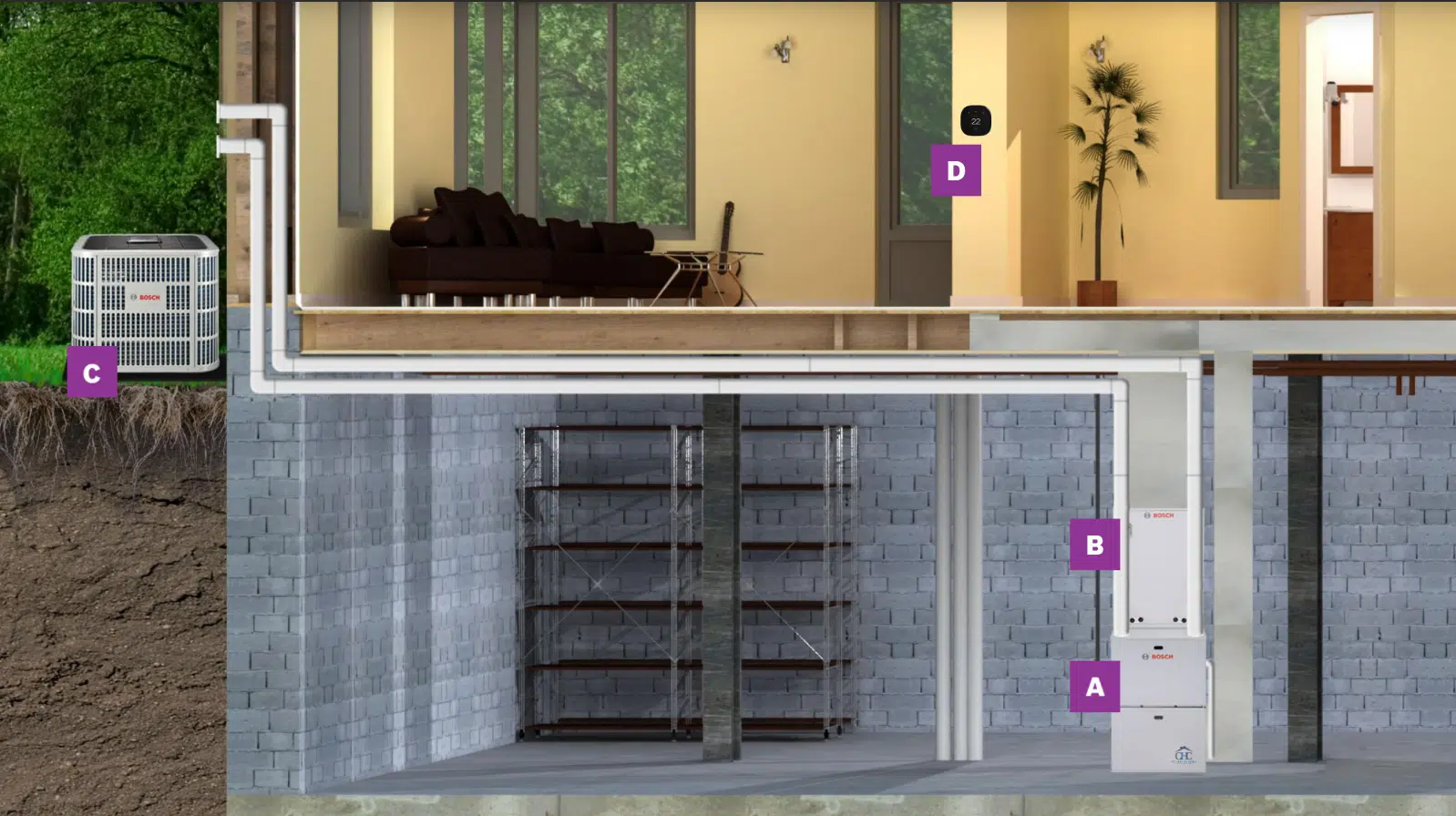 Previously, purchasing a heat pump was not cost-effective for homeowners in the Greater Toronto Area.
With the new grant, homeowners can get this ultra-efficient system for less than a standard 13 SEER air conditioner.
The ultra-efficient Bosch IDS Premium Heat Pump provides 20.5 SEER (Seasonal Energy Efficiency Ratio) for cooling and 10.5 HSPF (Heating Seasonal Performance Factor) for heating. This model qualifies for $6500 in rebates through the Canada Greener Homes Grant. When paired with a new Bosch Furnace and Coil.
Virtual Estimate
Use our online system to get an instant quote for a new Bosch IDS Heat Pump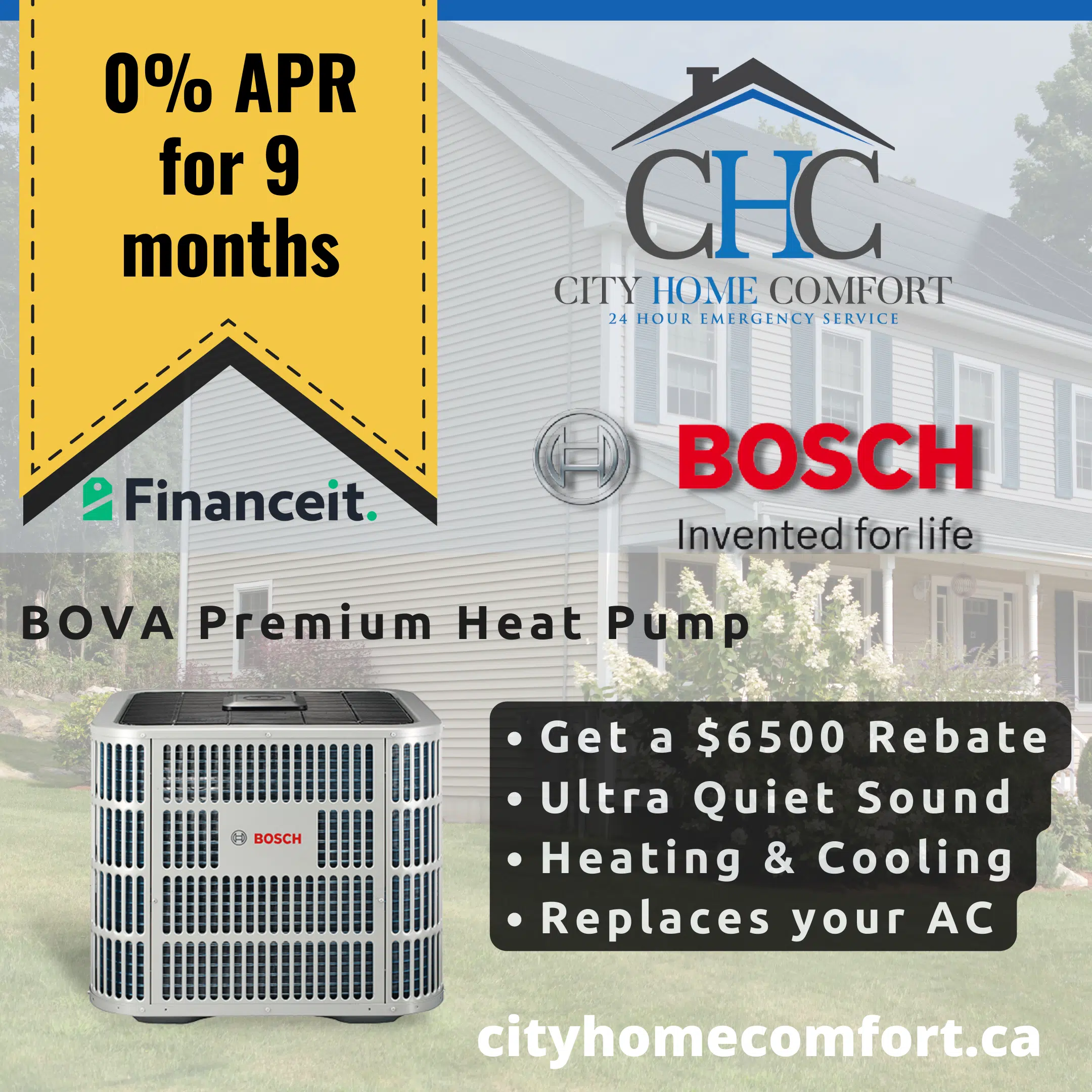 Get $6500 back in rebates before you pay!
More Ontarians now qualify
Grant funding through the Canada Greener Homes Grant is being offered across the country to all eligible Canadians. The co-delivery of this program through the HER+ in Ontario will allow eligible homeowners to access the benefits of both programs through a single application and streamlined process regardless of their home heating fuel type.
Learn more:
https://www.enbridgegas.com/residential/rebates-energy-conservation/home-efficiency-rebate-plus

Type of homes that will qualify:
Single and semi-detached houses

Row housing

Townhomes

All-season cottages

Mobile homes on a permanent foundation

Permanently-moored floating homes

Small low-rise multi-unit residential building (MURBS) (3 storeys or less with a footprint of 600 m2 or less)*

Mixed use buildings (residential portion only)*
* Multi-unit residential buildings (over 3 storeys or over 600 m2 in footprint) are not eligible homes under the Canada Greener Homes Grant. www.nrcan.gc.ca/MURBS
Then, you need to register online at https://canada.ca/greener-homes-grant  
Once you are registered and your application has been approved by Natural Resources Canada, the next step is the visit of an energy advisor to conduct the necessary EnerGuide Rating System pre-retrofit evaluation of your house and to discuss all funding opportunities you would be eligible for based on the condition of your house.
It's simple to get an energy audit for your home. Let our team assist in your qualifications, free estimates, and installing your new heat pump.
Let our team help you get a New Bosch IDS Heat Package.
We offer industry-leading warranty and installation services beyond trade standards.
Saving energy saves you money 💰
Grants of up to $6,500 for Hw and EnerGuide evaluations up to $600 to help homeowners make energy-efficient retrofits to their homes.
For more information, contact us at info@cityhomecomfort.ca or call 416-556-8368 and visit our website: cityhomecomfort.ca
The Bosch IDS Package qualifies for The Home Efficiency Rebate + Program and saves the most on energy costs with our highest efficiency offering: IDS Premium BOVA 2.0.
Participants are eligible for up to $7,100 total under the initiative.
Updates will be provided over the initiative's life to keep homeowners informed. As part of the government's plan, they are committed to ensuring Greener Homes reaches diverse Canadians, including those living in remote and northern communities and those with limited internet access.