The ultra-efficient Bosch IDS Bova 2.0 heat pump provides 20.5 SEER (Seasonal Energy Efficiency Ratio) for cooling and 10.5 HSPF (Heating Seasonal Performance Factor) for heating. This model qualifies for $4000 in rebates through the Canada Greener Homes Grant. When paired with a new Bosch Furnace and Coil.
Previously, purchasing a heat pump was simply not cost-effective for homeowners in the Greater Toronto Area. With the new grant, homeowners can get this new system for less than a basic 13 SEER air conditioner.
What is a heat pump?
A ducted split heat pump is an inverter that can provide heating and cooling. This system replaces existing air conditioner condensers and evaporator coils.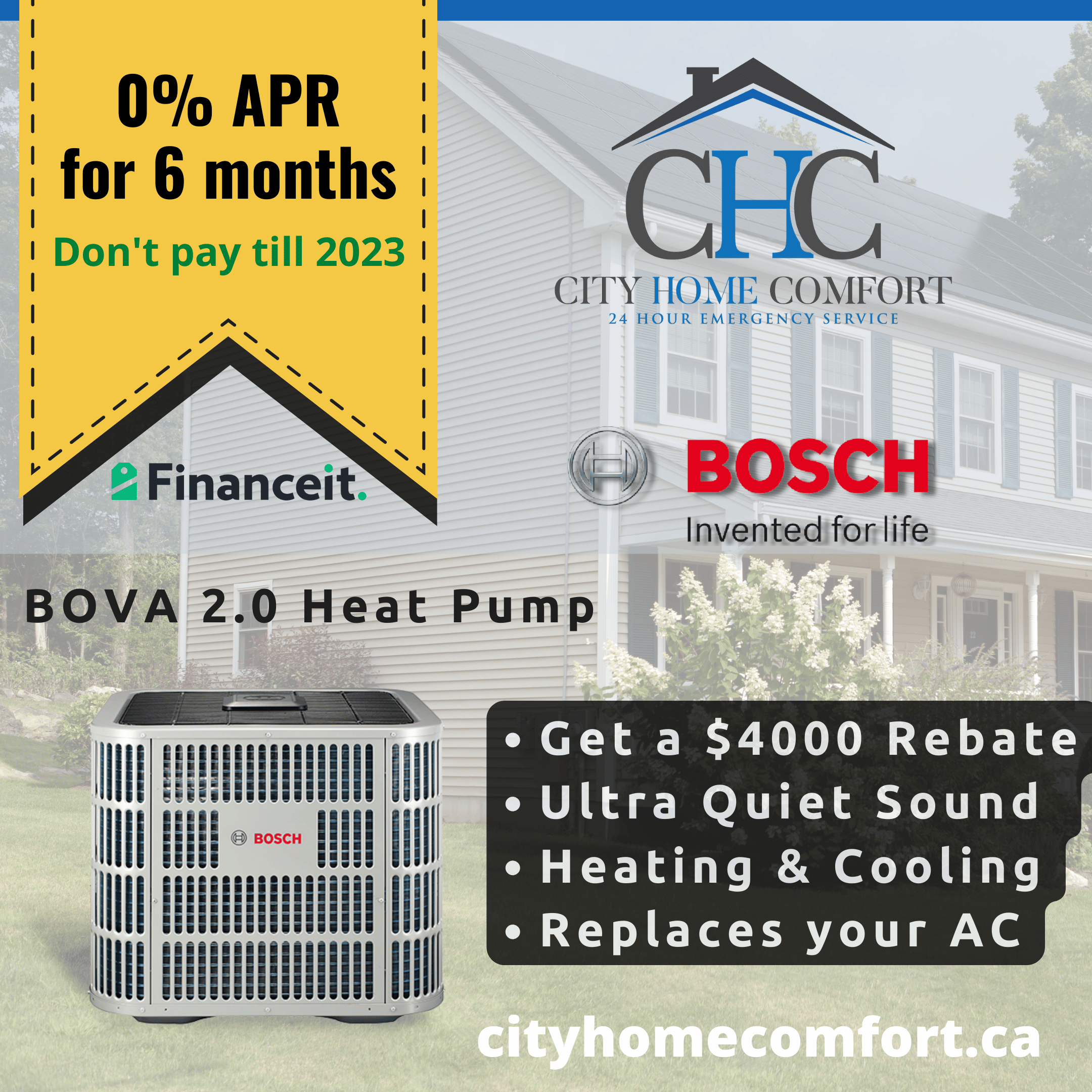 Get $4000 back in rebates before you pay!
Who can participate?
To participate in the Canada Greener Homes Grant, a homeowner's primary residence must be eligible for an EnerGuide evaluation.
Single and semi-detached houses

Row housing

Townhomes

All-season cottages

Mobile homes on a permanent foundation

Permanently-moored floating homes

Small low-rise multi-unit residential building (MURBS) (3 storeys or less with a footprint of 600 m2 or less)*

Mixed use buildings (residential portion only)*
* Multi-unit residential buildings (over 3 storeys or over 600 m2 in footprint) are not eligible homes under the Canada Greener Homes Grant. www.nrcan.gc.ca/MURBS
Then, you need to register online at https://canada.ca/greener-homes-grant  
Once you are registered and your application has been approved by Natural Resources Canada, the next step is the visit of an energy advisor to conduct the necessary EnerGuide Rating System pre-retrofit evaluation of your house and to discuss all funding opportunities you would be eligible for based on the condition of your house.
It's simple to get an energy audit for your home. Let our team assist in your qualifications, free estimates, and installing your new heat pump.
Let us guide you on a New Bosch IDS System and How to qualify for rebates.
We offer industry-leading warranty and installation services beyond trade standards.
Saving energy saves you money 💰
Grants of up to $5,000 and EnerGuide evaluations up to $600 to help homeowners make energy-efficient retrofits to their homes.
For more information, contact us at info@cityhomecomfort.ca or call 416-556-8368 and visit our website: cityhomecomfort.ca
The Bosch IDS Family Qualifies for The Canada Greener Homes Grant and save the most on energy costs with our highest efficiency offering: IDS Premium 20 SEER.
Participants are eligible for up to $5,600 total under the initiative. Updates will be provided over the life of the initiative to keep homeowners informed. As part of the government's, they are committed to ensuring Greener Homes reaches diverse Canadians including those living in remote and northern communities and those with limited internet access. Working on building a diverse network of energy advisors to provide career opportunities to all Canadians and to meet the need of our communities.