Top Rated Furnace Repair in Toronto
At City Home Comfort, we provide repair services for all furnace makes and models. We are offering 24-hour emergency furnace repair throughout the Greater Toronto Area. We provide HVAC services 365 days a year for all heating and cooling systems.
We provide repair and new installation of the highest quality furnace brands.
We carry replacement parts and provide honest diagnostics and fair pricing, no matter the situation.
We can help you solve all your heating and cooling needs. Emergency service to Toronto, Ajax, Pickering, North York, Scarborough, East York, Richmond Hill, Mississauga, Brampton, Oshawa, Markham, Etobicoke, and Vaughn.
See our complete list of Repair Services here.
We want to ensure you, and your family is safe with our enhanced technician protocols.
Natural Gas High Efficiency Furnace Repairs
The last thing you want is for your furnace to malfunction without warning in the middle of the night in winter. The comfort and safety of your home and family depend on a working furnace. So, if an unexpected breakdown occurs, call City Home Comfort.
It doesn't matter what brand of furnace you have since we repair all makes and models. An experienced technician from our team is trained to diagnose and solve furnace problems of all types.
We will provide you with services such as:
Diagnosing issues
Fixing or replacing components like the heat exchanger.
Cleaning the unit & changing the filter.
Replacing the thermostat.
Checking the gas lines.
Fixing or replacing the ignitor or pilot light.
Cleaning or replacing the flame sensor
Fixing or replacing the fan blower motor.
We know how important it is to have a trustworthy and experienced company you can call anytime. When you call us, you'll get a reassuring voice on the phone as well as have a trained and licensed technician dispatched to troubleshoot the problem right away.
We always offer fair and transparent prices for regular maintenance and furnace repairs, so give us a call, day or night, for all your service needs.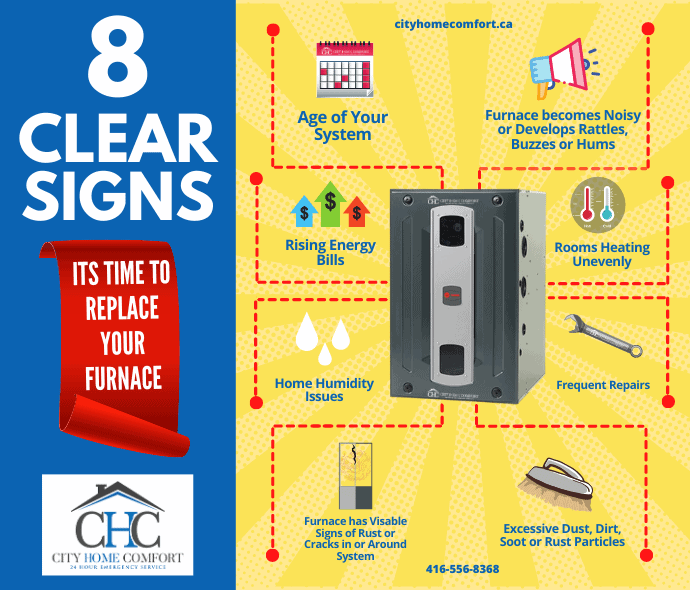 Ontario Furnace Standards
In Ontario, as of 2012, only High-Efficiency furnaces can be installed. Additionally, a high-efficiency furnace is rated with at least 95% AFUE and has a direct vent PVC exhaust. Oil-burning furnaces are mid-efficiency, and only chimneys vented through the roof. Electric models require no exhaust ventilation and are very efficient with new technology.
A traditional furnace unit has a single stage and a single-speed PSC (Permanent Split Capacitor) blower motor.
All new models have multi-stage heating options and ECM (Electronically Controlled Motor) DC variable speed blowers that are up to 60% more efficient.
The new furnaces models we offer have high-quality Stainless Steel Heat Exchangers that provide the ultimate peace of mind.
Types of Furnaces
When looking for a heating system replacement, the options are between single-stage, two-stage, and modulating models. We can help you choose which is best for your home and budget, but here's some information to get you started:
Single-stage furnaces have just two settings: On and Off. These furnaces tend to be more basic, less efficient, and aren't as quiet as the more sophisticated two-stage and modulating types.
Two-stage furnaces include a High and Low setting in the On position. This means they can run at a lower level most of the time to maintain your home's temperature better. It also means the operation is quieter and more efficient, so you'll save money on energy bills. Advanced Variable Speed blower motors to keep the home's temperature more consistent.
Modulating furnaces are the most advanced models available. Firstly, they have multiple settings when running and can make incremental adjustments to the heating output to maximize fuel efficiency, quiet operation, and temperature consistency.
Above all, these modulating models also are equipped with variable-speed ECM blower motors and provide the most consistent temperatures.
One stop Full Service Furnace Repair
All multi-stage furnaces are enhanced with variable speed blowers, operating on DC current and offering up to 40% hydro savings. Also, when considering a furnace repair, it's essential to consider if it's worth the investment or install a new one.
Related: When to replace your furnace and how to pay for it.
We create a custom-designed system because every home and family has a different requirement. Our proposals will be detailed and created with your needs in mind, with the same approach we would provide for our family.