Trane High Efficiency Furnaces
When winter is upon us, it's important to make sure your furnace works properly. Because working furnaces do more than keep you warm. They keep your pipes safe from freezing, your family warm, and your energy bills low. So, if you need a new furnace, a Trane furnace can be the best option for your home.
Trane gas furnaces are uniquely designed with efficiency and precise temperature control in mind. With two-stage and modulating furnaces – there's a perfect furnace for every home. Trane furnaces are reliable, quiet and guaranteed to keep you comfortable and heat your home even on the coldest days.
Trane is known throughout the world for their efficiency, quality, and durability. They have several options to meet all your needs, including:
Hear it from our happy customers!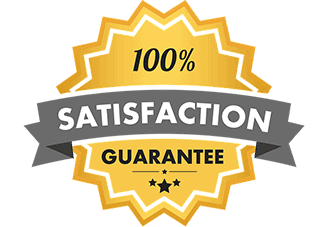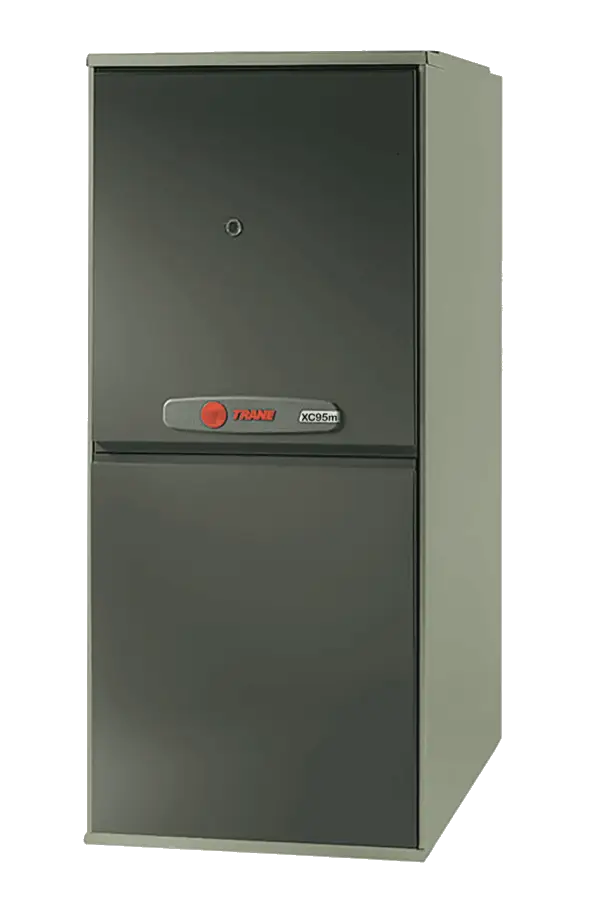 Pro Model:
If you're looking for a superior high-efficiency furnace, the XC95M model is the best furnace for you. It features an Annual Fuel Utilization Efficiency (AFUE) of 97.3 and Advanced ComfortLink™ II, which means that the furnace calibrates itself for maximum performance.
Advanced ComfortLink™ II communicating technology constantly calibrates itself for optimal performance year after year
Comfortable, even heating
Variable-speed blower motor adjusts speed to provide a consistent flow of warm, comfortable air with quiet operation.
Efficient performance
The XC95m is rated with up to 97.3% efficiency (AFUE) and select furnace models are Energy Star qualified.
ComfortLink™ II Communicating Capability
ComfortLink™ II communicating technology connects all of your key components so your system automatically charges, configures and calibrates for optimal performance through the lifetime of your products.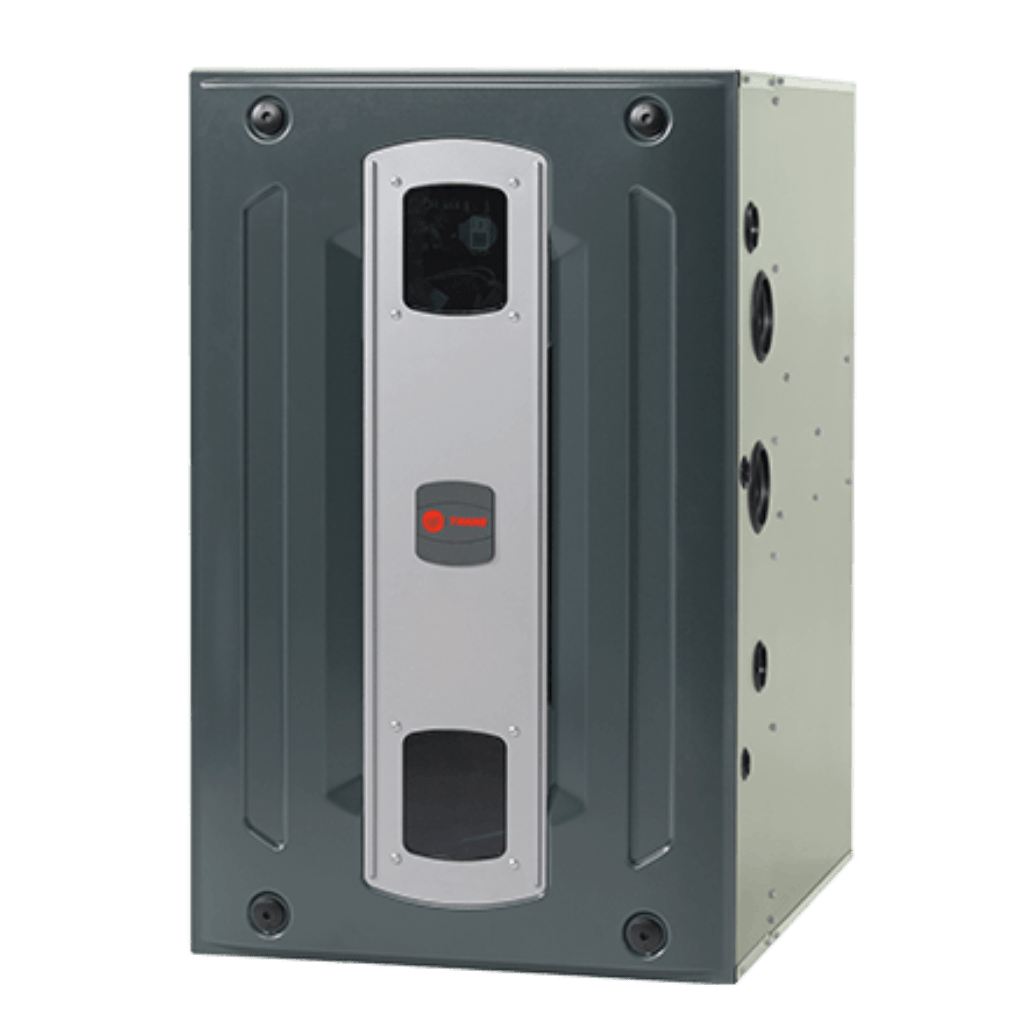 Gold Model:
This two-stage Trane furnace is one of, if not, the quietest models on the market. With a new 2021 burner system upgrade to make the operation sound minimized even more. The new S9V2 furnace is more efficient in both heating and cooling, offers quiet operation, and maintains the DNA that Trane is known for: quality and reliability.
Industry-changing cabinet design
The S-series furnace cabinet is designed to accommodate virtually any home, and is certified to be airtight to less than 1%.
Efficient performance
The S9V2 is rated at 96% gas efficiency (AFUE), and the Vortica™ II blower is one of the most efficient in the industry, providing energy savings in both winter AND summer.
Comfortable, even heating
With stainless steel primary and secondary heat exchangers, and the ultra-efficient Vortica™ II variable speed blower, you can count on a consistent flow of warm, comfortable air with quiet operation.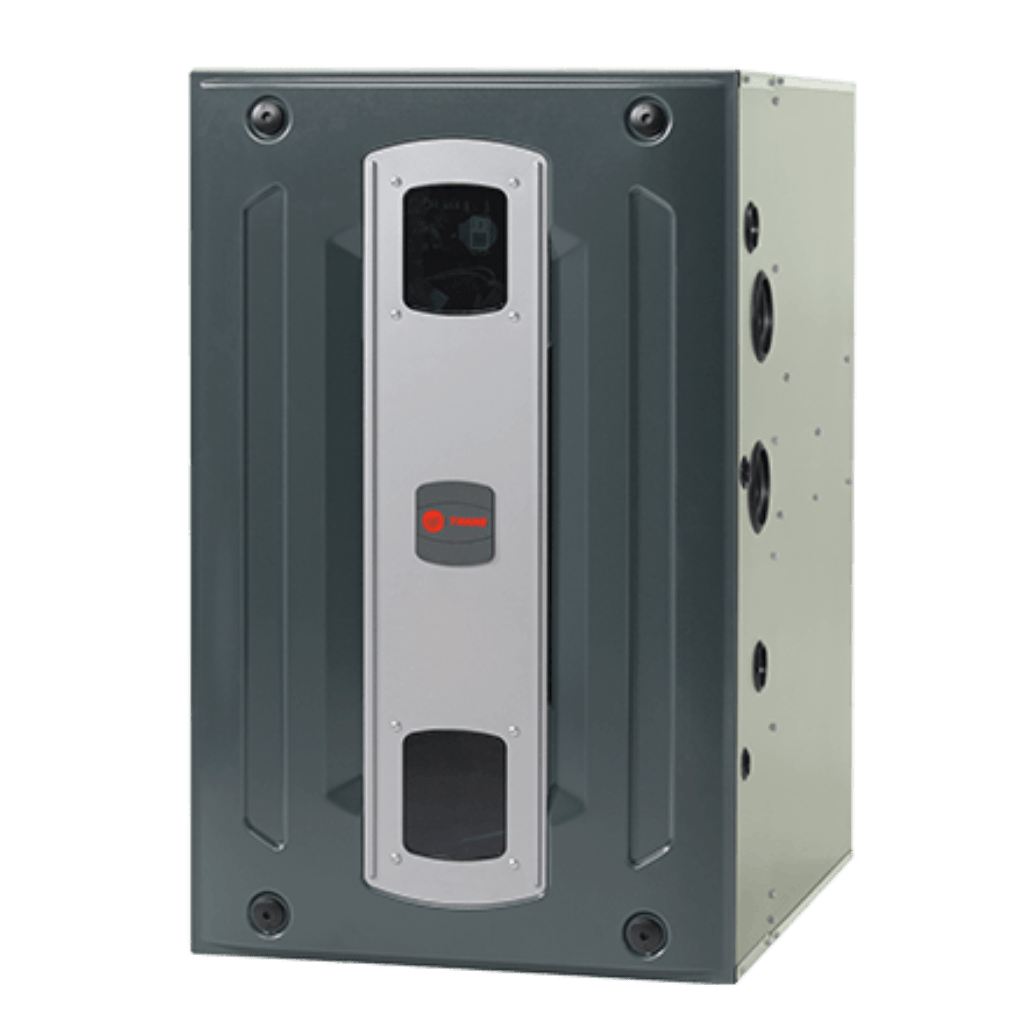 Plus Model:
The most requested and installed furnace of 2019.  Version upgrades in 2020 have made this furnace even quieter. The new S9X2 furnace offers two stages of gas heat for comfort in cold weather, and a CTM blower for maximum efficiency in warm weather, while maintaining the quality and reliability that Trane is known for.
Formed Steel Door with Smoked Acrylic View Windows for functional yet attractive appearance. Two-Speed Draft Inducer works seamlessly with the two-stage gas valve to enhance efficiency, comfort and reliability.
Up to 96% AFUE – fuel efficient design
2 stage gas heat – more comfort, quieter operation, less temperature swing
ECM Constant Torque, high-efficiency motor – electrically efficient
Vortica™ II blower – Exclusive design is efficient and quiet
Stainless steel primary and secondary heat exchangers – reliable / durable
Three-way poise (U, HL, HR) plus dedicated DF – getting the right model is easier
24v IFC – compatible with most thermostats
Matches with single stage or 2 stage AC or HP – more system design flexibility
34" height – easy to fit in tight places or with larger coils
Easy to install and service – dealer friendly design
Certified 1% airtight – meets the most stringent building codes
Energy Star® certified – validated to be efficient
Trane Technologies
Trane has been a household name in the heating and cooling business for over 120 years, because they have built a reputation as a reliable manufacturer of quality furnaces. They are always innovating and testing new technologies to optimize performance and ensure maximum comfort.
Their line includes high-efficiency furnaces with AFUE ratings as high as 97.3 percent, which will translate to great energy and cost savings. They also have affordable and quiet furnaces in single-stage, two-stage, and modulating designs. Use our furnace cost calculator to get your pricing.
No matter what type of furnace you have, there are some universal signs that it's time to get a new one.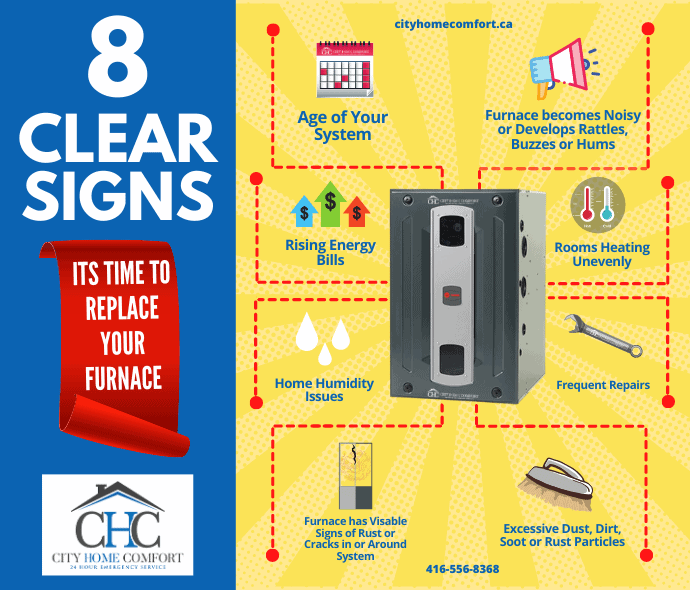 This is what to do:
If you notice any of these issues or your furnace is more than ten years old, it's probably time to get a new furnace. The experts at City Home Comfort can help you find the best furnace for your home.
We're fast, reliable, and have experience in diagnosing, repairing, and installing furnaces throughout the Toronto area. When you buy a new Trane furnace from us, we'll include a free media filter that will keep the air in your home clean and improve your furnace's efficiency!
Dust Everywhere – A properly working furnace will filter out air particulates. If you notice that your home has more dust than usual, it might be time for a new furnace.
Frequent repairs – Once your furnace starts needing frequent repairs, it's cheaper to buy a new one than repair the one you have multiple times.
Inconsistent or no hot air – A properly working furnace should provide you with hot air that's consistent from room to room in your home.
Use your eyes, ears, and nose – When you first turn on your furnace, it will create a musty smell, but if that smell lingers, you might need a new furnace. You also shouldn't see any cracks or corrosion on your furnace or hear any grinding or banging sounds.
➤ CHECK OUT OUR LATEST FURNACE DEALS & PROMOS!
Get a no obligation quote on a New Trane Furnace
We offer industry-leading warranty and installation services beyond trade standards.