Ductless Heating and Cooling
Mini split and Heat Pump Systems
Ductless heating & cooling systems are perfect for homes or additions that lack ductwork, and other situations where a normal central A/C or forced-air furnace isn't suitable.
➤ Both cooling-only and heating + cooling models are available.
Do you have an old ductless air conditioner that has seen better days, or are you looking for additional cooling in a space with no ductwork? If that sounds familiar, then it might be time for a ductless mini-split replacement.
When you're in the market for a new air conditioning system, City Home Comfort is your dependable local contractor. We provide fair & transparent prices, and we've been helping homeowners in Toronto for over three decades with installation, repairs, and maintenance for their ductless systems.
Hear it from our happy customers!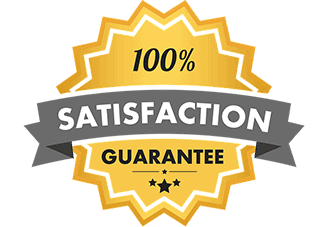 Popular Uses for Ductless Mini-Split Systems include:
Providing additional cooling power to a third floor
Providing heating & cooling to homes or businesses with no ductwork
Heating & cooling a home addition or inlaw suite
7 Tips for Operating Your Mini-Split Heat Pump in the Summer
Choose your comfort level.
Let your system run continuously.
Set the fan to AUTO. 
Keep the air flowing with routine maintenance. 
Check for drainage.
Block the sun by closing shades and curtains. 
Leave interior doors open to circulate cool air.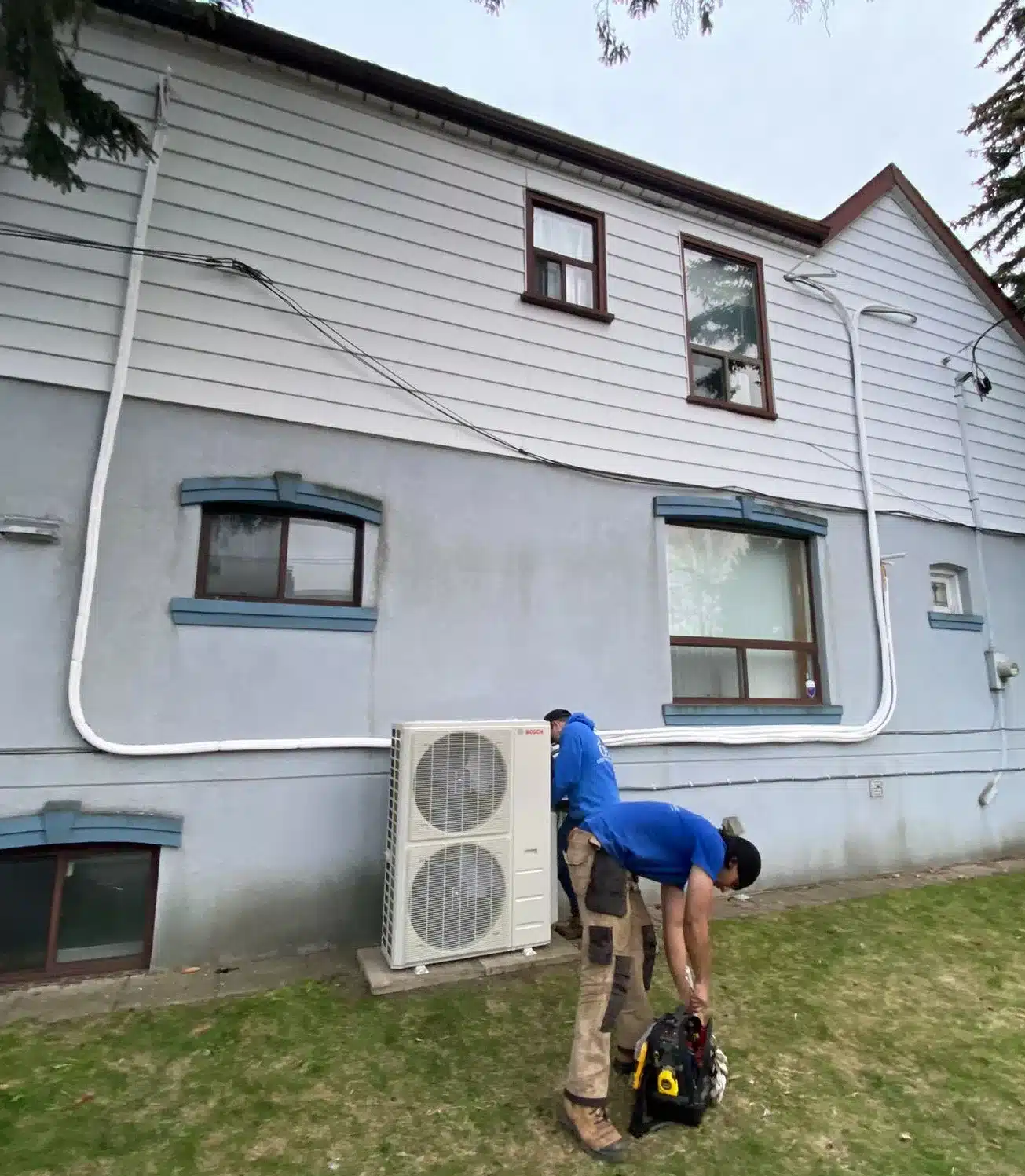 Get a Great Deal on Brand Name Ductless Mini-Splits
When you trust this Toronto heating and cooling contractor with your HVAC needs, you'll get access to a wide selection of ductless mini-split systems from all the best manufacturers in the world, including Bosch, Mitsubishi, and Daiken.
Panasonic
Panasonic's collection of ductless mini-split air conditioners and heat pumps work to produce the perfect ambient temperature and humidity level for interior spaces of all layouts and sizes. As part of Panasonic's total Breathe Well solution, the air is continuously circulated, cleaned and distributed evenly to create a healthy, comfortable environment. Panasonic ClimaPure™ XE Mini Splits with nanoe™ X technology inhibit odours and indoor air pollutants such as allergens and pollens. Easy to install, powerful and energy efficient, live every day to the fullest with comfort and the best possible indoor air. WiFi-enabled to provide seamless remote operation.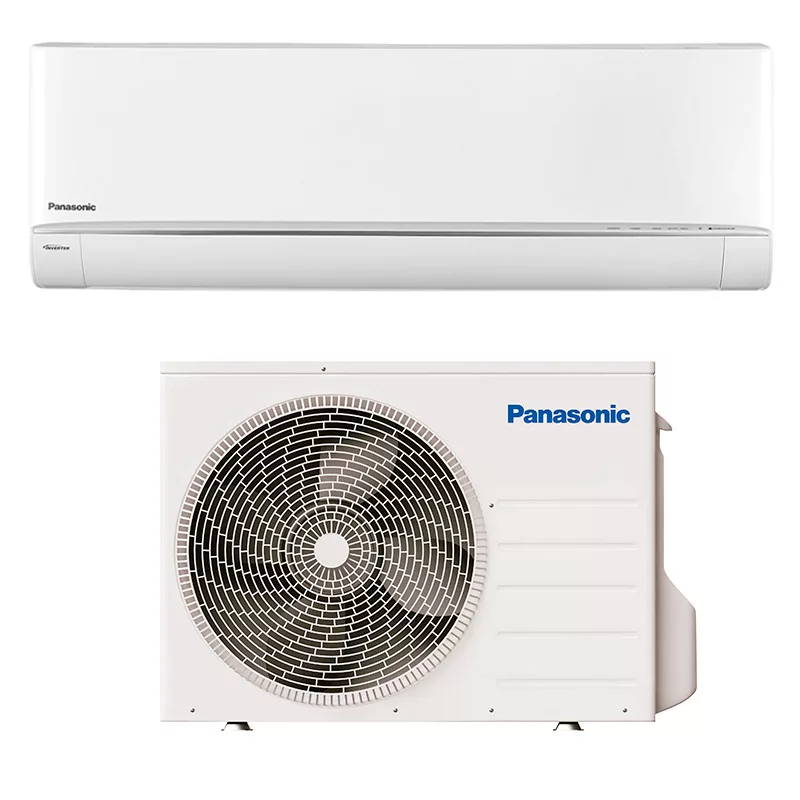 Bosch
Bosch MAX Performance systems provide comfortable and optimal indoor heating in cold-climate conditions even when outdoor temperatures dip down to -22ºF. Best of all, no additional accessories are required for the system to work in low ambient temperature in both heating and cooling operation. Bosch MAX Performance system will produce 100% heating capacity even at -5ºF. (6) Available in three indoor types: Wall Mounted, 4-Way Cassette and Ducted.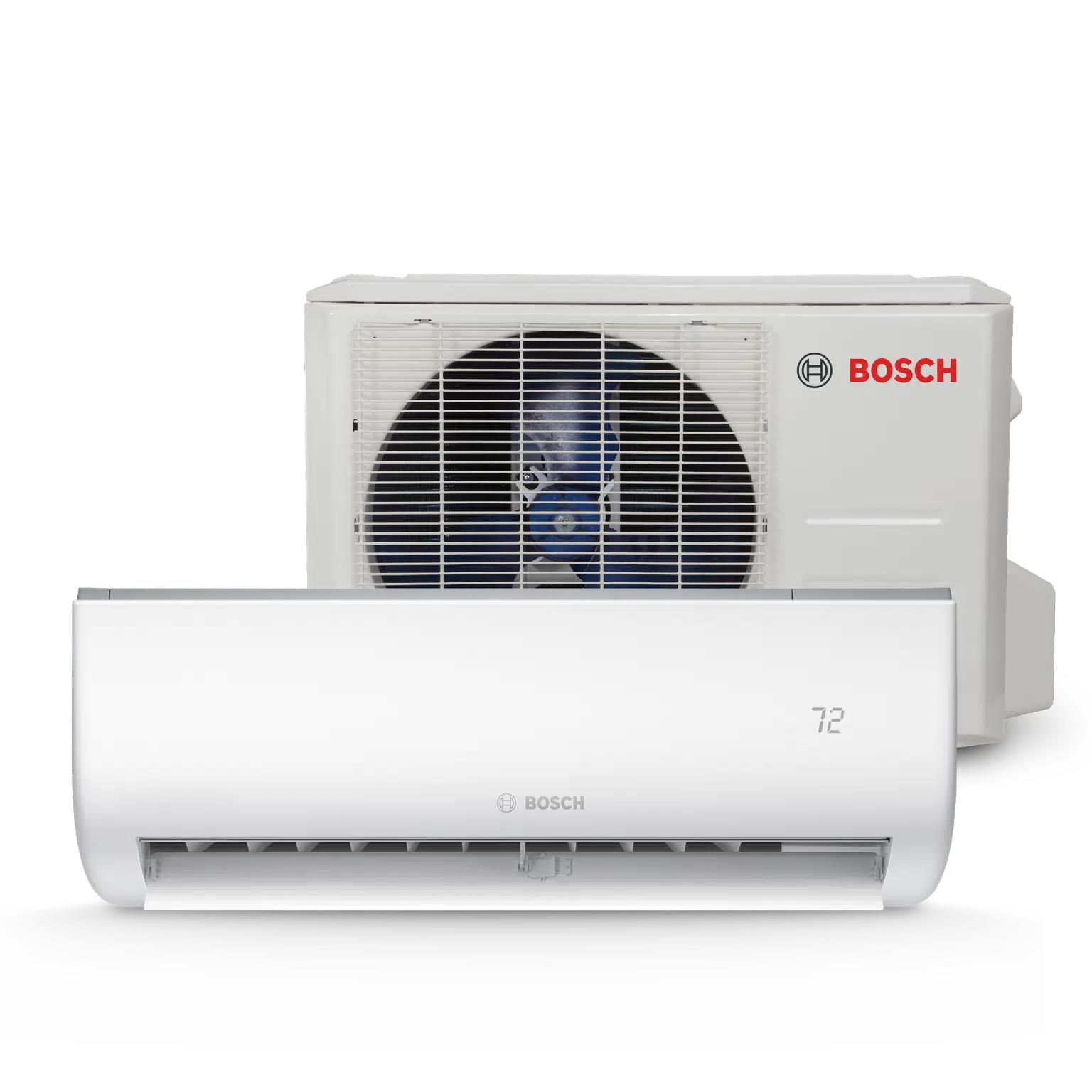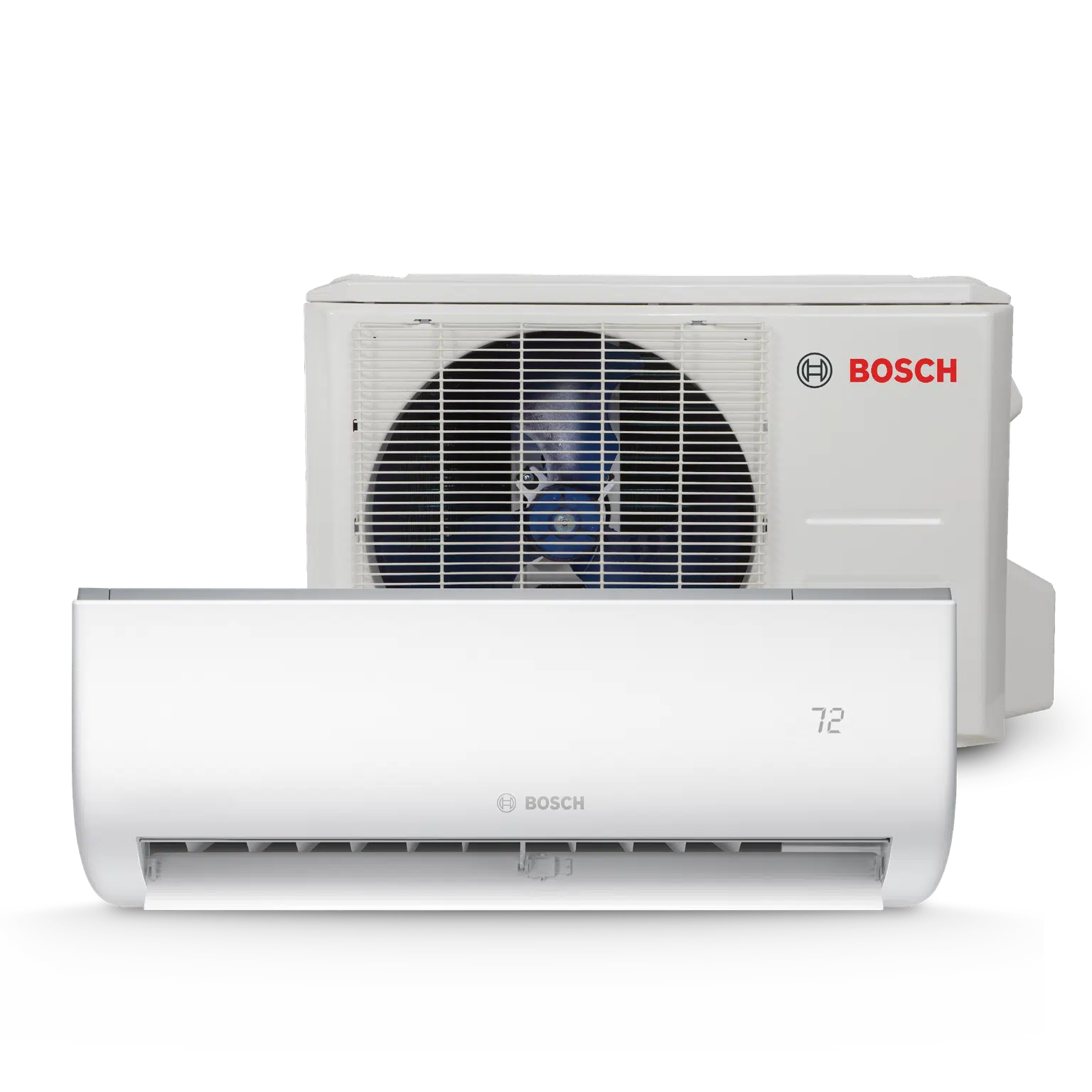 Mitsubishi
Mitsubishi has a long history, and today they're a major manufacturer of automobiles, electronics, and HVAC equipment. Their single- and multi-zone ductless mini-splits guarantee excellent temperature and humidity control, great energy efficiency, and interesting features like a sensor that detects hot and cold spots. Mitsubishi is one of the most highly-regarded brands of ductless heating & cooling systems.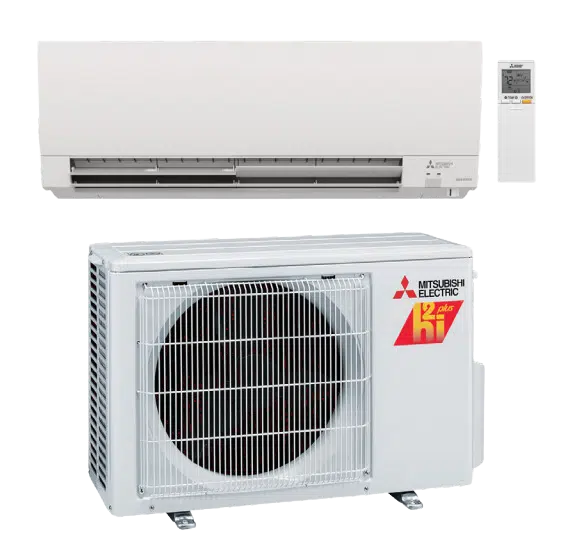 Get a no obligation quote on a New Ductless Heat Pump
We offer industry-leading warranty and installation services beyond trade standards. 
Learning More About Ductless Mini-Splits
There are two major types of air conditioning systems: central ones and ductless ones. In terms of cooling mechanisms, the two systems function very similarly. The difference is in how they get cold air from the unit to your home.
Central air conditioners rely on ductwork and vents to circulate cold air throughout your house. Ductless systems, on the other hand, use outdoor compressor units connected to indoor air handling units that distribute air into individual rooms or areas.
Some ductless mini-split systems also have a heating function, which means they can provide cooling in the summer and heating in the winter.
Is a Ductless Mini-Split Right for Me?
Ductless mini-splits are ideal for older homes, condos, and other spaces that don't have existing ductwork. Instead of taking on the hassle of retrofitting your home with ducts (which can be expensive and difficult), a mini-split lets you have your cake and eat it too: you get an air-conditioned house without expensive renovations to your home.
During installation, our technicians will install one or more indoor air handling units in your home that will be connected to the outdoor compressor unit. And the best news is that installing the indoor units is generally quick and easy, so we'll be in and out in no time.
Single-Zone and Multi-Zone Mini-Splits
One decision you'll face when buying a ductless mini-split is between single-zone and multi-zone systems. A single-zone ductless mini-split pairs one outdoor unit with a single indoor unit. A multi-zone system pairs a single outdoor unit with two or more indoor air handlers.
The system that's right for you will depend on many things, such as:
The size of your home
What rooms you spend the most time in and where they're located
Whether you want to set different temperatures for different areas
The layout and design of your home
If you're not sure which system is right for you, then one of our certified technicians will be happy to provide an assessment.
Our Services in Toronto
We can take care of all your HVAC needs, including ductless mini-split installation, emergency heating & cooling system repairs, and maintenance. We'll help you every step of the way, from choosing the right model to installing your system quickly and properly to providing ongoing care and service.
Here's what you can expect when you call our experienced staff for help:
Fast and reliable service
Fair prices
Trained, licensed, and insured technicians
Nearly 40 years of experience serving homes in Toronto
Emergency 24-hour service
We'll even give you a free estimate about a new install or services to keep you on track with your household budget.
Important Warranty Coverage So You Can Rest Easy
Warranty coverage will protect you by making sure all necessary repairs are done quickly, and it'll also make sure you don't have to pay out of pocket for something you've already invested in.
Because of this, you should consider warranty coverage when you're buying a new ductless mini-split, as some manufacturers offer very different terms. For most manufacturers, a standard warranty is about 10 years and covers functional parts and the compressor.
Get a no obligation quote on a New Ductless Heat Pump and Air Conditioner
We offer industry-leading warranty and installation services far beyond trade standards. Get a no obligation quotes: