In Toronto the best home air conditioner brands in the world are available. In most cases the best models on the market have the highest energy efficiency rating. When looking at installing a new ac system there are many factors to decide what equipment is best for you. This is a long term investment and the information can get overwhelming.
The factors to take in to consideration are the location of your home, average use of the equipment, warranty coverage, energy efficiency, and the budget for the upgrade.
Choosing a high seer model will guarantee the best energy savings. Most HVAC systems are cross compatible and can work with different brands. The best heating and cooling brand in North America is Trane Technologies. The brand we carry with the best warranty is Amana.
In Ontario the average single family home uses 600-700 hours of annual air conditioning run time. Taking in to account that the only benefit of going with the most expensive models up to 21 SEER, is energy savings.
So, which brand has the best air conditioner models available in Ontario?
Here is a list from hvac.com: https://www.hvac.com/air-conditioners/best/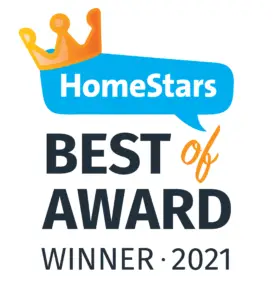 In Toronto, Ontario we consider price, quality, quietness and efficiency.
For our most popular options we are tied between the Trane XR14 16 SEER and the Amana ASX16 16 SEER. These models range from $3800-$5500 + HST with installation costs. These are single stage efficient central air conditioners, with optimal noise levels.
The Trane XR14 has unmatched durability and quiet operation. The Amana ASX16 has similar sound ratings, but the best warranty (lifetime unit replacement if the compressor ever fails).
Use our online air conditioner cost calculator tool here to get a fast quote.
These 2 models both offer very quiet operation, Energy Star ratings and the affordable pricing. Buying a 16 SEER over a 14 SEER model is about $300-$400 more in cost and will save that much in electricity in about 5 years.
The quietest outside Air Conditioner is one of the most affordable; ComfortStar MAH 2 ton model is rated at 57 Decibels! These are installed for $2800 – $3400 + HST with a 10 years parts and 1 year labour warranty.
When looking for a new central air conditioning system you can rely on City Home Comfort will provide the most honest and fair options. A new air conditioning unit should be purchased with a 15-20 year life expectancy. So, investing in a high efficiency model is always suggested.
The Best Brands we carry are Trane, and Amana, but with Air Conditioners many makes are available for your preference. When getting a new air conditioner installed its best to make an informed decision, and ensure you are getting a fair price.
You have many options to choose how to pay for your new central air conditioner.
City Home Comfort is offering the most consumer friendly finance options available. We have 0% deferred loan options so you can pay at your convenience.
Purchasing your equipment out right will always have the lowest cost. Finance options are also good choices because you can pay off the total anytime. Rental options are not ideal and have lengthy contracts that cost thousands more than retail options.
We have the perfect central ac unit option for your home and budget. Use our Air Conditioner Cost Calculator for a fast, simple and efficient quote.